WBB faces Northern Kentucky in first road test
Golden Eagles haven't won a non-conference game since December 2013.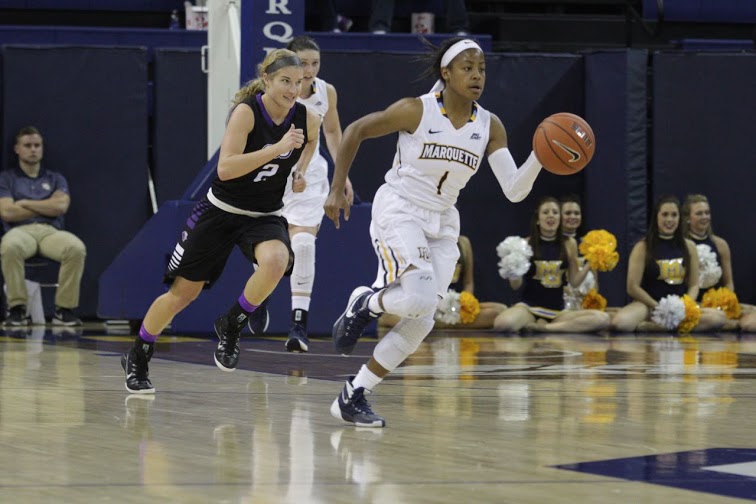 Andrew Goldstein, andrew.goldstein@mu.edu
November 19, 2015
Another game, another learning experience for the young Marquette women's basketball team.
Saturday's showdown with the 1-1 Northern Kentucky Norse will be the first time Marquette leaves Wisconsin this season. Marquette is currently 0-2 and looking to notch their first non-conference road win since December 2013.
"They're a very well-coached team and a very balanced team," Marquette assistant coach Ginny Boggess said of Northern Kentucky. "But we see another opportunity for us to learn and get better."
Boggess and head coach Carolyn Kieger have said from the season's outset that this year's success will be measured primarily by player development, not necessarily results. In that respect, there are certainly numerous bright spots. Allazia Blockton has employed a combination of smart shot selection and strong finishes at the hoop to average 12 points per game in the young season.
"She's got a great midrange game and she wants the ball in her hands," Boggess said. "What we need to do is open up the floor and have a bit better spacing, and she'll be even more of a threat."
Freshman guard Danielle King is another player that has stood out to the coaching staff. The Chicago native has not proven to be the strongest shooter – she went 0-9 from the field against IUPUI – but she did collect nine rebounds in that game, which is no easy feat as a 5-foot-5 point guard.
"If your point guard's getting in there and getting nine boards, that's saying she's got heart," Kieger said.
Both King and Blockton will have their defensive capabilities put to the test by Northern Kentucky guard Christine Roush. The senior from Louisville, Kentucky, put up 24 points in a win against Miami (Fla.) and followed it up with 15 points in a close victory over Indiana State. Roush may be the most gifted scorer the Golden Eagles have encountered so far, and guarding her will be a challenge for an inexperienced backcourt.
"We're fast, we're strong, we've got the ability to make the plays we need to make one-on-one," Boggess said. "When (Roush) catches the ball, we have to be in position early to guard her."
The game tips off at 1 p.m. Saturday and can be viewed on ESPN3.