University's next steps discussed after demonstration for University of Missouri, people of color
Clara Hatcher, Religion & Social Justice Reporter
November 13, 2015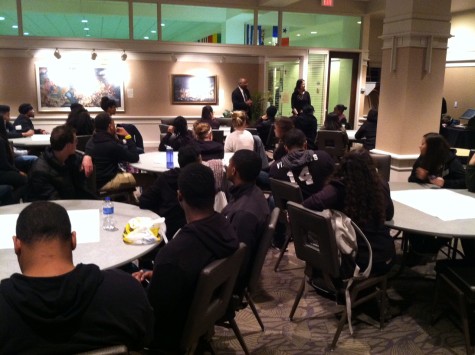 Hours after Marquette community members demonstrated silently for people of color in higher education, an open forum was held in the Alumni Memorial Union Nov. 12 to discuss the university's next steps.
Around 85 students were at the discussion, which was aimed toward students of color at Marquette. Additional faculty facilitators were in attendance to help run it.
Eva Martinez Powless, director for intercultural engagement, explained that the goal was to come out of the forum with three action steps to help the university move forward.
Attendees worked in small groups discussing issues that students of color encounter on campus. They then brainstormed and wrote down action steps, picking three to present to the entire group. Powless said the top three will be reviewed and proposed to administration.
Ideas that were presented included starting cultural awareness floor meetings in residence halls, hiring more minority professors, following up with bias incident reports and increasing publicity for diversity scholarships.
Some of the most commonly mentioned ideas were implementing classes that cover white privilege and cultural sensitivity, starting mandatory diversity training and increasing dialogue among students.
"We feel like even coffee with each other would be great," said Kevin Price, a senior in the College of Communication. "We want to have more outlets for safe dialogue because right now, people are uncomfortable talking about these issues."
Another idea to promote discussion came from Adam Hamilton, a sophomore in the College of Business Administration. Hamilton's group suggested implementing an open dialogue with Marquette Police Department to address racial profiling on campus.
"In order to solve problems, we have to talk about them," Hamilton said.
Bianca Howell, coordinator for intercultural engagement, Jean Zanoni, associate dean for administration and planning of Raynor Memorial Libraries and William Welburn, executive director of the office of institutional diversity and inclusion, helped run the forum. Zanoni was the main facilitator.
"This is vital, baseline information that we will judge ourselves on in even three to five years," Welburn said. "We will be keeping every idea that someone comes up with."
Welburn and Zanoni are both part of the campus climate study committee. They said the group will work with these ideas to implement change.
Zanoni ended the forum by saying the plan is to see the proposed steps being taken within the next 12 to 18 months.
"This is especially interesting to me because this is far and away the largest group we have seen this week," Welburn said, addressing low student attendance at climate study discussion forums this week. "This shows the interest of every student here."
The majority of students in attendance were students of color, which Welburn said was not an accident.
"The forums that we have been running all week have been focusing on specific demographics and specific groups," Welburn said about the climate study forums. "We find that there is a different opinion of campus with these students."