Curling club swept from old rink
Team had practiced at the Wauwatosa Curling Club for 21 years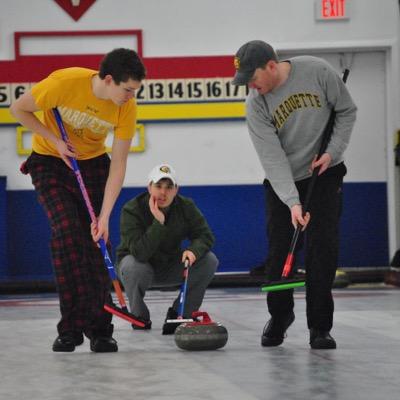 Robby Cowles, robert.cowles@mu.edu
November 19, 2015
For the first time since its inception in 1993, the Marquette Curling Club will train at a new location.
Marquette began practicing at the Milwaukee Curling Club in Cedarburg, after spending the past 21 years at the Wauwatosa Curling Club. Although the Milwaukee club has a prestigious reputation, the decision for Marquette's move came after a controversial dispute.
"Over the summer they informed us that they switched our practice time from Fridays 3:30 to 6:30 to Sundays at 8 p.m," club president Jonathan Hyink said. "They did not even inform us at all that they were discussing changing our time, and we assumed everything would flow as usual."
The senior and first-year president thought the time change was unfair to his club and its members.
"Knowing our club members would vehemently be against this time slot, whether it be for academic or religious reasons, I knew I had to make a change," Hyink said.
The president called the switch a "huge jump" and cited the historical reputation of the Milwaukee club as a reason why he believes this location will be better off as their new facility.
The Milwaukee Curling club has existed since 1845 and is the longest continually operating curling club in the United States, according to the club's website.
Hank Bowman, president of the Milwaukee Curling Club, said he is excited for Marquette to call the club home. The team brings youth to the club's new five-sheet facility, which opened in 2012.
"The Milwaukee Curling Club is pleased to be able to offer practice ice time to allow the Marquette Curling Club to prosper in their efforts to support and promote the sport of curling," Bowman said in an email. "Any chance we have to expand and promote the sport of curling through our new facility in Cedarburg is key to our club growth goals and we are excited to be considered 'home ice' for Marquette."
Bowman emphasized the historic club's goals to appeal to all ages, with an emphasis on younger generations of curlers. Marquette's involvement could potentially bring bonspiels, or curling tournaments, to the facility in the future.
"The addition of the Marquette Curling Club to our facility speaks to that intent of exposing curling and all it teaches to younger members of society," Bowman said. "By introducing curling through the (Milwaukee Curling Club) and through the Marquette program, we increase the likelihood of advancing our own youth to the levels of national and international competition."