Trisha Jeffrey shares her 'Dreamgirls' journey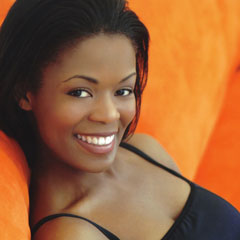 Casey Beronilla
November 6, 2015
The Milwaukee Repertory Theater  ran a production of Tom Eyen and Henry Krieger's "Dreamgirls" from Sept. 22 to Nov. 1, in its Quadracci Powerhouse. The show, directed by Mark Clements, is loosely based on The Supremes, and has a dialogue on the music scene in America during the Motown era.
"Dreamgirls" tells the story of three young women who form a musical group under the direction of a manager who wants to see them achieve ultimate fame. The role of one of these young women, Deena Jones, is played in this production by Trisha Jeffrey, who told the Wire about her life as an actress in musical theater and her role in "Dreamgirls" at The Rep.
Trisha Jeffrey, a New York-born actress, is making her Milwaukee Rep debut in this production, but her experience with theater and even "Dreamgirls" itself is quite extensive. Having attended a high school for the arts and trained specifically in musical theater and acting, she went on to perform in shows including "The Color Purple," "Little Shop of Horrors," "Once on This Island" and "Rent."
Prior to this role, Jeffrey played Diana Ross in the touring company of "Motown: The Musical." In preparation for portraying Diana Ross, Jeffrey researched in-depth about the singer, The Supremes and the age of American music that "Dreamgirls" captures. She says that in addition to knowing "Dreamgirls" just from growing up with an interest in theater, having this background really helped her to prepare for the role of Deena as well.
"'Dreamgirls' is something that I grew up hearing in school, when I was in acting school. It's one of the big musicals that you study from, so I feel like a lot of the preparatory work was already laid down for me," Jeffrey said. "This process has been more about seeing who Deena is now, when I think about her now, and also holding close to Mark (Clements)'s vision for the show was."
In the program for the show, Clements states that The Rep desires "to tell powerful, meaningful, and entertaining stories through multiple disciplines." One of these disciplines is as simple as the layout of the house. The Quadracci Powerhouse is arranged in a way that permits audience members to pick up on different subtleties in the plot based on where they are seated in the theater. Audience members sitting on one side of the stage tend to empathize more with certain characters than those seated on the opposite side would. Jeffrey believes this is why people return to see the show for a second or even third time. Theatergoers' experiences are different with each show they attend. However, this is not the sole reason why audiences return.
"I feel like a lot of audiences come back because they love the show so much. They love hearing the music. It makes them feel good," Jeffrey explained. "The music of the show is so beautiful because you get to hear the style of America at that time. You get to hear what music sounded like – clean, simple lyrics, fun. There was storytelling in the music, and that's basically what Motown Records did for American history, not just black history, but for America. So you get to capture that a little bit in 'Dreamgirls.'"
In addition to the historical aspects packed into "Dreamgirls," Jeffrey explained how the story is just as much tied with modern times.
"As these ordinary people got so close to fame and what they think they wanted, you see how all of their lives kind of fell apart," Jeffrey said. "They're ordinary people who were faced with suddenly extraordinary circumstances, like celebrity. Now in 2015, it's very clear to us how celebrity can destroy a person when they're not ready to deal with it. "Dreamgirls" sort of captures this story way before it was happening, way before we understood it. But the thing is, it's so relevant still today."
As for her role in the show, Jeffrey is still learning and developing ways to improve and enhance the character. She says that before each show, a big part of her routine includes analyzing and deciding how Deena is feeling in each scene and performing accordingly.
"I have a lot of fun playing Deena," Jeffrey said. "What I like about her is that she does have a lot of fun being part of the group and being in the background, and there are so many colors that you get to see in the role when suddenly she's told that she's going to be the lead. This being my first time playing the role, I know that I definitely would want to do it again because there's so much more that I see that can be done with it."