PINK Marquette expands following on campus through scavenger hunt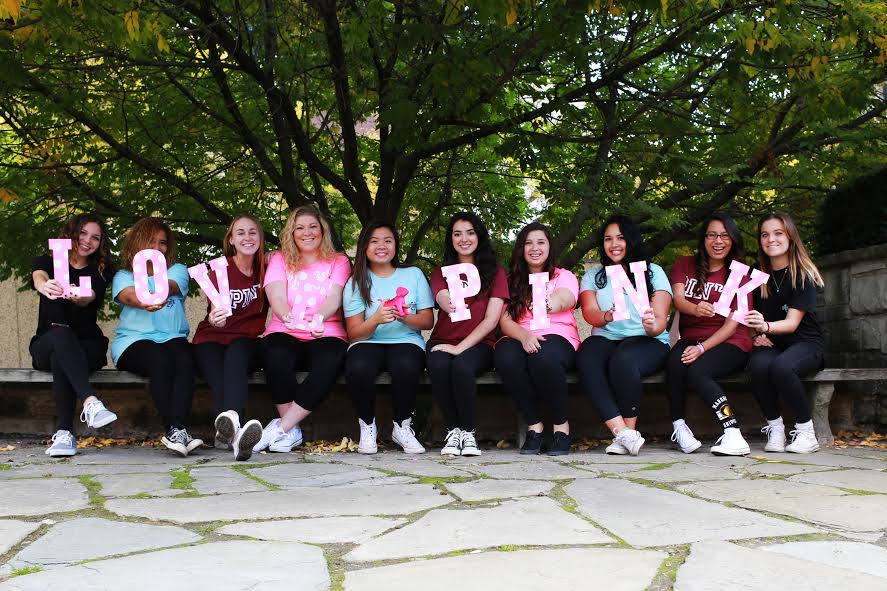 Casey Beronilla
October 20, 2015
Every lady likes to spoil herself once in a while.  While our hearts flutter at the sight of the pink, striped shopping bags, a unique characteristic of Victoria's Secret, student loans cruelly remind us to settle down.  If your wardrobe mainly consists of free Marquette T-shirts and cries for some variation that your wallet won't allow, PINK Marquette offers a fashionable yet affordable solution.
Victoria's Secret has partnered with about 100 universities across the country to promote their PINK line, which now specializes its apparel for colleges.  Though not a university-affiliated student organization, PINK Marquette was launched last year when Marquette signed a licensing agreement so that the brand can distribute apparel and accessories bearing the name of the school.  The organization hosts events both on campus and at the PINK store at Mayfair Mall in Wauwatosa.
Marquette girls are invited to these events for special deals and free giveaways.  Rather than for profit, PINK Marquette gives away apparel and coupons simply to spark excitement about the brand.  Marquette's campus reps, seniors Catt Podlogar, College of Business Administration, and Lauren Escobar, College of Communication, are enthusiastic about the program and have exciting plans for the brand's on-campus presence this semester.
"What we do is hold a bunch of events on campus and just promote the brand through social media," Podlogar explained about the 0n-campus brand.  PINK Marquette relies heavily on social media for promotion.  In its latest event held Oct. 5-9, the group used social media to hold a campus-wide scavenger hunt.  Victoria's Secret supplied generous giveaways including apparel and accessories.  The campus reps hid this apparel on campus, and posted clues to the prizes' locations via Snapchat.
"People followed us on Snapchat, and every single day we did four to five snaps, and it would include us walking to our destination and where we were going to put the prize," Escobar said.  "Each prize during the week included a water bottle, a makeup bag, pen, hair ties, a sports bra — there were really nice things in there.  We did it at different times during the day, once a day, Monday through Friday, and it was pretty successful."
The reps were met at each location by hopeful girls, ranging from freshman to seniors, who had followed the clues. One lucky winner went home with cool PINK gear every day that week.  Anyone who did not emerge victorious was invited to visit PINK's stand at the men's soccer game the following Saturday for another chance at prizes.  The scavenger hunt helped get the word out about PINK Marquette, proven by the addition of over 100 followers of the group's Snapchat.
"We got a lot of really good feedback from it.  We think everyone really enjoyed it," Podlogar said.  "It was such a quick and easy thing for us too."
Podlogar and Escobar have a lot of other events in the works for the remainder of the semester.  On Oct. 27, PINK Marquette is hosting a bra party at Mayfair to celebrate the release of the Medallion Lace Push-Up Bralette.  Last year's in-store bra party doubled the store's amount for the day, and hosted over 200 guests.  This year, the reps are hoping to see at least 300 at the event.
PINK Marquette will also be partnering with the Bayanihan Student Organization to supply outfits for their fashion show Nov. 21.  In December, the group will hold a viewing party for the Victoria's Secret Fashion Show.  PINK Marquette has recently begun collaborating with HerCampus, which has just been re-established at Marquette.  The campus reps also hope to partner with MU Fashion and Style Club, be present at sporting events such as basketball games, and work with more charity events on campus, including Dance Marathon for the second year in a row.
If you are looking to get involved with the organization, applications for PINK Marquette's Street Team will be announced over social media later this year.  Six to eight Street Team members are hired at the start of every semester.
Positions on the Street Team include social media chairs, photographers, assistant event planners and bloggers.  Additionally, because both of this year's campus reps will be graduating in the spring, Victoria's Secret will be hiring two new campus reps for the 2016-2017 school year.  These reps must attend brand training over the summer to meet with marketing directors and the PINK fashion department.  Campus reps are directly in contact with the brand, often giving input about apparel and providing feedback to PINK about its gear.