Men's soccer freshman attacks defense
Sanchez thrives in move from midfield to defense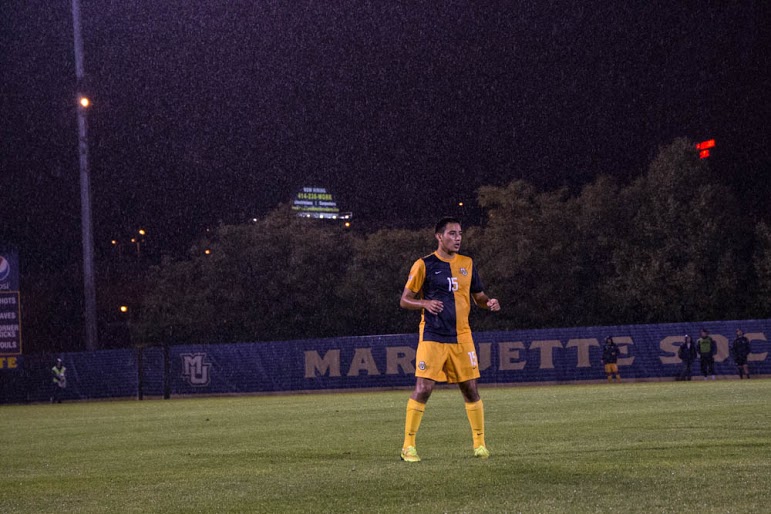 Jack Goods, Assistant Sports Editor
October 8, 2015
Before Marquette, freshman Ruben Sanchez had only played defense a handful of times, yet last week he added a BIG EAST Defender of the Week award to his resume. Usually a defensive midfielder, Sanchez moved to center back this year due to teammates' injuries, giving him the opportunity to not only start, but excel.
Sanchez has played in every match this season, starting the last eight games on the Golden Eagles backline. As the 59th ranked recruit in the country, according to the IMG Academy Top-150, he was a player that Marquette head men's soccer coach Louis Bennett and his staff knew had a high ceiling.
"We thought Ruben was a higher level player," Bennett said. "He'd suffered from a few injuries and went off the radar after he'd been with the (U.S.) national team. We always liked him, and we always had our eye on him."
In the past, Sanchez has only had to play defense when one of his teammates exited the game with a red card, but he seems to understand the defensive game quite well in his first year.
"It's a lot easier than playing midfield," Sanchez said. "You don't have to be worried about people coming from the back. Playing defense, you can see the whole field. It makes it easier to pass."
Sanchez is one of multiple freshmen playing vital roles for the squad this season, but he did not expect to get this long of a look so early on.
"The first game, they started warming me up," Sanchez said. "They sent me back on the bench… (Then) they kept warming me up. I (thought) 'I don't even think I'm going to go in. I'm just lucky that I'm getting to play this many minutes now.'"
The other Golden Eagles starting center back, junior John Pothast, has been a player that Sanchez has studied throughout the season to improve his positioning. Bennett compares Sanchez to Pothast's brother, Eric, who played for Marquette from 2010 to 2013.
"Eric, John Pothast, and Wicho (Barraza) have been a great little developing dynamic," Bennett said. "The only issue is that we don't have a really large center back, but both of them are good in the air."
Sanchez said the Golden Eagles try to overcome the size deficiency by jumping early.
"For a center back I'm not that tall," Sanchez said. "The teams we've played so far, most of their forwards are over six feet … I get used to it. You adjust to playing with the big tall guys."
It isn't surprising that Sanchez was able to pick up on the Golden Eagles' system so quickly, because it was the main reason he chose this team in the first place.
"I came to Marquette because I liked the way they played," Sanchez said. "They're a passing team, and in my position I'm the distributor. That made it easy for me."
Finding players who fit the system can sometimes be more important than simply looking for the most talented.
"When we recruit, we don't fish with a net," Bennett said. "We fish with a spear."
Bennett said Sanchez will likely move back to the midfield when the team gets redshirt freshman Danny Jarosz back from injury. Since the team has struggled as of late, the Marquette coach isn't afraid to make changes to the lineup. However, knowing that Sanchez can play well at both positions gives Marquette added flexibility going forward.
If the team didn't have people who could play multiple positions, Bennett said "(they'd) be in trouble."