Floor generals: student section moving closer to action
Fanatics move to baseline among Bradley Center changes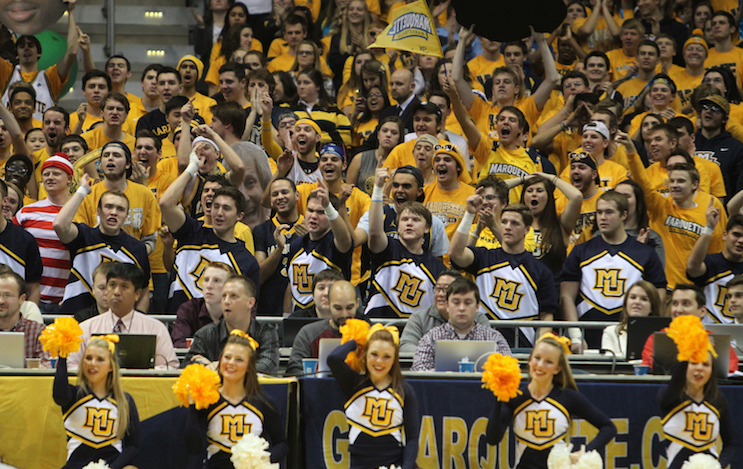 Dan Reiner, daniel.reiner@mu.edu
October 8, 2015
When Marquette men's basketball makes its long-awaited return to the Al McGuire Court Nov. 13 to open the season against Belmont, students will feel closer to the action.
In fact, they will be physically closer. Moving the student section closer to the court is one of several changes being made by Marquette athletics to enhance the fan experience for the upcoming season.
"We really want to try to create as good an experience as we can, and seating at games is a piece of that," Director of Athletics Bill Scholl said.
Deputy Director of Athletics Brian Hardin said they will add approximately 100 new spots to the student section on the floor level.
"In the past, we've always had the two sections where the band is in one and the students are in another," Hardin said. "We're going to keep that the way it is, but we're going to now have two or three rows of students that will be right off the edge of the floor (in front of them)."
In addition, the student section will gain about 30 more seats in the corner between sections 222 and 223. That space was previously without seating, occupied only by ice hockey sideboards. There will also be about 30 new premium floor seats on sale to the public in front of section 105 on the baseline.
"We want to be able to create a better atmosphere, add more noise and make it a more challenging and exciting place to play," Hardin said.
That excitement is evident on campus already. On Tuesday, Marquette students filed into the Alumni Memorial Union for a free Marquette basketball t-shirt sponsored by Jordan brand. Upon an agreement between Marquette athletics and Jordan, students were asked to sign up for a Nike ID account in exchange for the free shirt. Marquette added the incentive of naming the men's basketball student section at the Bradley Center. Students claimed 1,000 shirts in under two hours.
"It was overwhelming; it was incredible," Hardin said. "We weren't sure if we were going to be able to get rid of 1,000 shirts. The passion and the love for basketball is real here."
Hardin said it will take some time to go through all of the submissions for the naming of the student section.
"Do we honor our past somehow? Do we recognize our present? Is it something that is Marquette or Golden Eagle related? It'll probably end up going in one of those directions," Hardin said.
Marquette also recently announced a new section at the Bradley Center for recent graduates called the "Coors Light Corner" in sections 427 and 428. Anyone who has graduated within the past five years is eligible to buy the discounted ticket package, which includes a t-shirt and pint glass for the season, and a free beer at each game. Hardin said the alumni section has been well received and more than 40 percent of the seats have been sold since being announced last week.
"I think this all speaks to what the product on the floor is going to be, Hardin said. "The ticket product is a neat one, but I think what we have with the team and what (Coach) Wojo's doing is going to be special this year."