50 shades: Marquette athletics adds new blue color
"Championship blue" joins blue and gold as MU athletics' official colors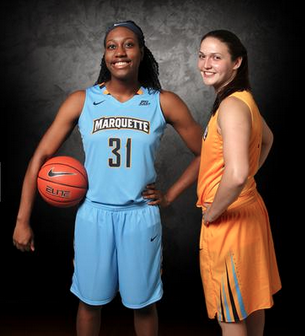 For as long as time can tell, Marquette has been identified by the colors blue and gold. In fact, the university has its own color palette: "Marquette Blue" is Pantone 281 and "Marquette Gold" is Pantone 123.
This year, Marquette athletics is adding a new color to the scheme to add a little more flair to its wardrobe.
It's called "championship blue," or perhaps more familiar to Marquette fans as the powder blue found on men's basketball jerseys in recent years. Director of Athletics Bill Scholl, who is wrapping up his first full year at Marquette, says student-athletes from several different sports had been asking to incorporate the light blue option.
"Obviously a lot of people here like it and feel good about that color," Scholl said.
The championship blue color has always been exclusive to the men's basketball team, Scholl said. Light blue has been a staple to the team's uniforms since the 1970s, including within the more recent "Marquette Rainbow" stripe detail, which features blue, gold and championship blue, down the sides of all of its uniform options. The decision to make it a universal color for Marquette athletics came only after men's basketball head coach Steve Wojciechowski said he was comfortable with it.
"Our agreement with all of our teams is that our official colors are blue and gold," Scholl said. "That's not changing. If they want to wear the championship blue as kind of a secondary option on occasion, that's OK, but I don't want to suddenly see teams wearing it seven, eight, nine times a year."
He noted teams that have already taken advantage of the new option, including women's basketball, which has a new championship blue alternate uniform akin to the men's design. Men's golf also debuted championship blue windbreakers at the Erin Hills Invitational this past weekend, and the men's lacrosse team has used the rainbow stripe on its helmets.
"We're trying to incorporate the striping more," Scholl said. "I think that is distinctly Marquette athletics. I'm encouraging the use of that as kind of a secondary logo."
Athletics added the striping to the hardwood floor at the Al McGuire Center, where it shows Marquette's "true colors" in the corners at either end of the arena.
Deputy Director of Athletics Brian Hardin confirmed that fans of the Golden Eagles can also get their hands on some gear featuring the hot new color: the free shirts provided at Friday's Marquette Madness event will be championship blue and feature the rainbow striping.