Students dress as dancing desserts downtown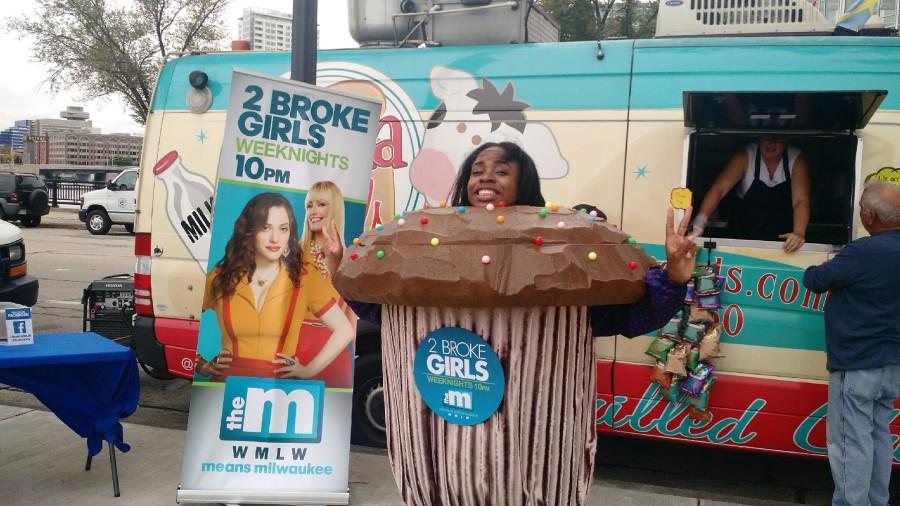 Alexandra Atsalis
October 1, 2015
Six Marquette students made their debut into the glamorous world of showbiz by donning giant cupcake costumes and dancing around downtown Milwaukee on behalf of WMLW, The M, Channel 49, to promote the TV Show "2 Broke Girls."
To raise awareness for the show's new syndication time of weeknights at 10 p.m. and 10:30 p.m., Channel 49 partnered with local businesses Classy Girl Cupcakes and The Gouda Girls food truck to travel to high-traffic areas in Milwaukee. With the help of local students decked out in tasty dessert style, they passed out delicious free cupcakes.
The promotion was organized by Molly Kelly, class of 1985, who now works for Weigel Broadcasting Co. and is the corporate director of media strategy for WDJT, WMLW and Telemundo affiliates in Milwaukee. Reaching out to her alma mater was an obvious choice when deciding where to find people to fill the cupcake costumes.
"As an alum, I know Marquette, and I knew it'd be easy for students to get to our locations," Kelly said. "It was a good fit."
Melissa Kennedy, marketing manager for Weigel Broadcasting Co., oversaw the promotion. "It's been very successful for us and we like being partners with people in the community," Kennedy said.
Students from the College of Communication were contacted via email a week ago seeking participants for the paid opportunity. The email contained a description of the job and a photo of the cupcake costume.
Despite the promise of paid work, some students were hesitant to volunteer because of the flamboyant costume.
"A lot of my friends didn't want to do it because of their dignity," volunteer Debbie Aderinkomi and junior in the College of Communication said. "But I was like, why wouldn't you want to be in a giant cupcake costume? It's just so fun!"
Another participant, Juana Kujjo, a sophomore in the College of Communication, admitted being in a cupcake costume certainly garners some unusual attention, but it was all part of the experience.
"Everyone who passed by was, like, pointing and laughing at me, but I just totally milked it, and they had music playing, and I was like 'come get a cupcake,' trying to make it fun," Kujjo said.
Aderinkomi also said that there were a lot of giggles, but overall, she enjoyed being in the costume. " I think it's awesome, it's so kick ass!" she said.
The cupcake costumes themselves are authentic replicas of the ones worn by the two main characters in "2 Broke Girls," who aspire to open their own cupcake bakery. Kelly worked with the promotions team at Warner Bros. to secure the costumes, one chocolate and one vanilla.
"When I saw them, I said to Warner Bros., 'I've got to have two of those,'" Kelly said. "They certainly are show-stopping."
Despite having no prior experience inside a cupcake costume, Aderinkomi and Kujjo, along with other Marquette participants, showed impressive talent for being dancing baked goods.
"They've been really great," Kennedy said of the Marquette students. "They have a lot of energy; they're very enthusiastic."
The promotion will take place outside the Milwaukee County Courthouse Thursday and Red Arrow Park on Friday, 11:30 a.m. to 1:30 p.m.