Marquette waiting on Lovell's signature to become fair trade university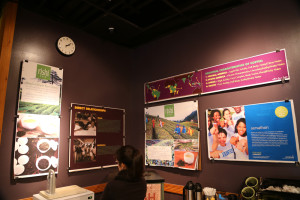 Marquette will become a fair trade university if University President Michael Lovell approves a bill from Catholic Relief Services.
"All that's left to do is put in a request form to Lovell's assistant that we want to meet with him," said Kayce Scherzer, CRS ambassador and junior in the College of Nursing, in an email. "Our time frame to meet is ASAP."
Marquette Student Government passed the fair trade bill last semester. Fair trade ensures that farmers who sell their products receive fair prices, fair wages, safe working conditions and environmental sustainability. It also prohibits forced labor of any kind.
Scherzer said that if approved, the bill would go into effect immediately. She said Marquette is already up to standards with being a fair trade university, and the bill can make it official.
A MUSG resolution says the university's support of fair trade is a good way to put the Ignatian teachings of social justice and environmental sustainability into practice.
According to the resolution, Marquette would work with its food service contractor to make fair trade coffee, tea, chocolate and other products available in dining facilities.
Aliya Manjee, MUSG vice president and junior in the College of Arts & Sciences, said she's a strong supporter of the fair trade bill.
"It advocates for equity in trade and creates opportunities for economically and socially marginalized producers," Manjee said about fair trade in an email.
The resolution states Marquette should approve fair trade because of its values. Manjee agrees that fair trade would fit Marquette's values and benefit the university.
"Fair trade assures consumers that the products they purchase were grown, harvested, crafted and traded in ways that improve lives and protect the environment," Manjee said in an email. "I think that this practice is very reflective of Marquette's Jesuit values."
If Lovell passes the bill, Manjee said the university will be accountable for providing at least two fair trade products in dining halls. She said CRS's goal is more than food products, so fair trade apparel and supplies could eventually be sold in the spirit shop or at Book Marq.
Marquette would also educate students about fair trade and be committed to promoting fair trade products on campus if the bill is passed.
"Marquette becoming a fair trade university really follows the mission of standing in solidarity with the people we are privileged to serve," Scherzer said in an email.