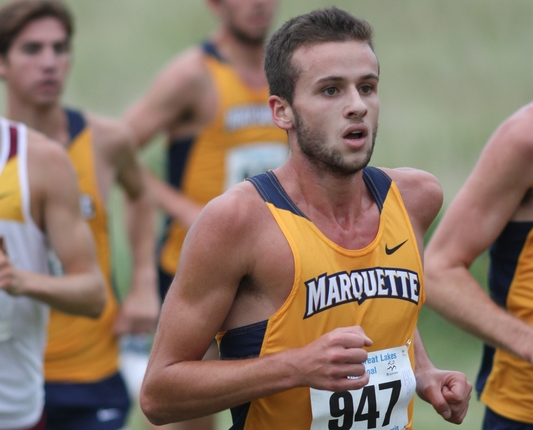 Marquette's cross-country teams get a fairly distinct competitive advantage compared to all other fall sports.
Championship season starts in September.
No, it won't face only BIG EAST competition for this championship – this Friday's meet will bring together schools from across the country at the 36th National Catholic Championships in Notre Dame, Indiana. This year's meet will feature 38 schools from Divisions I, II and III.
"It's always solid competition and there is a special place in our hearts for it because it's against only Catholic competition," head coach Mike Nelson said.
At last year's championship, the Marquette women finished second out of 11 Division I schools, while the men finished fifth.
"That's what we're going for again this year," Nelson said. We're going for the top five, maybe even the top three."
With those high expectations, the Golden Eagles will rely on key returners from last year's roster to set the tone. That's not an easy task for either side, especially because the Notre Dame women return Molly Seidel and Danielle Aragon, who finished first and second last year, respectively. The Irish also added Anna Rohrer, who won the 2014 Foot Locker Cross-Country National Championship as a high school senior.
Marquette's women will be without senior Kellie Greenwood, who finished third overall to Seidel and Aragon last year. Filling her shoes will be senior Kayla Spencer, who finished the 5,000 meter course last year in 18:02. This will be Spencer's season debut after missing the season-opening Badger Classic with knee problems.
"Kayla is such a competitor. With her attitude, she's always going to give it 100 percent," Nelson said of his top runner. He estimated that Spencer is at 95 percent, physically.
The Golden Eagles will also rely on junior Brittany Feivor and sophomores Jennifer Parker and Meghan Carroll to help them reach the team goal.
On the men's side, sophomore Alec Miller is fresh off a second-place finish at the Badger Classic and seems poised for a top-ten finish on Friday. Junior Nate Gomoll and freshman Jon Klaiber will try to help lift the team into the top three.
Wherever the team finishes in the championships, Nelson is cognizant of the fact that it's still only September.
"Ultimately my goal is to make progress from meet to meet," he said. "It's another step in getting toward our goals during the true championship part of the season."