MLS academy prepared Barraza for early starting role
The Freshman keeper spent three years at the Real Salt Lake development academy
Hang on for a minute...we're trying to find some more stories you might like.
Freshman keeper Luis "Wicho" Barraza knows a thing or two about proving himself to people.
When he was 15, his club team disbanded, forcing him to go back to the high school level. He knew a coach from Real Salt Lake's (RSL) development academy, so his mother sent letter after letter trying to get Barraza a tryout for the Major League Soccer program.
RSL gave him a tryout in Arizona but warned him that they weren't looking for goalies, since all the spots were filled. He decided to go anyway, but planned on coming back up again to try out in the spring.
On the seven-hour drive back home to New Mexico, he got a phone call. He made the academy.
"My mom pulls over and she starts crying," Barraza said. "That was on a Friday, and the next Tuesday they wanted me to go."
Barraza said goodbye to his friends at school, then moved away to begin training with the team on the RSL campus, halfway between Phoenix and Tuscon, Arizona.
Barraza understood that since the team was already set on goaltenders, it would be tough for him to get game action. His mother told him to give it his best, even if he was just playing with the lower club team.
"I said, 'Mom, in a month, I'll play my first academy game,'" Barraza said. "'Don't you worry.'"
After only a handful of games with the U-16 and developmental teams, Barraza got the call to prove himself on an even higher stage. The U-18 team was without both its keepers, as one faced injury and the other had to leave for personal reasons. The team gave him the starting role, playing with and against some players three years older than him.
"My goalkeeper coach comes up to me and asks, 'Do you know all these guys' names?' because I was training with the A team," Barraza said. "(The coach said), 'You better learn them, because you're playing with them this weekend.'"
He spent the next three years on the top U-18 team, only being sent down to man the U-16s for a national championship in Houston. RSL had one of the top teams in the academy, and Barraza got to play with their incredibly high-powered offensive unit.
A few months after joining the academy, Marquette reached out to the young keeper. Head coach Louis Bennett said his staff got their first look at Barraza when going to see his teammate, former Golden Eagle Coco Navarro, at a Florida showcase.
"Wicho was someone we knew the way we were going, and the style we wanted to play, we would need someone similar to his skill set," Bennett said.
During Barraza's junior year at the academy, the Golden Eagles upped their interest, inviting him on an unofficial visit to Milwaukee. Barraza committed that first trip.
"It was immediate," Barraza said. "Me and Coco back at the academy, we were close. I've got a person that can help me here, and it looked like a good program."
Unfortunately for Barraza, Navarro opted to go pro instead of playing his final two seasons at Marquette. He's with the Real Monarchs, Real Salt Lake's United Soccer League affiliate.
The Golden Eagles went into the season with a wide-open goalie competition. Bennett stressed a goalie-by-committee mentality to start the post-Charlie Lyon era.
If you looked at the game sheets through five matches, you'd have no clue. Barraza has taken the reins, starting every game this season and playing in all but 22 minutes.
"We knew that he had immense talent," Bennett said. "The question with anyone who comes into our program is how quickly they acclimate to our tactical system and accountability… He's realizing there's a lot of opportunity here, and as of now, he's taking advantage of it."
Bennett won't officially name Barraza the starting goalie for the rest of the season. The team is going one game at a time, which he says is important for motivation.
"The key with 18-to-22-year-olds, in my opinion, (is) keeping them on their toes," Bennett said. "It takes a really ambitious and hungry person to keep being given a starting role and not sit back and drink the Kool-Aid. It's productive to make sure everyone knows at all times there's someone else to take their place if they don't show up."
Barraza already has some impressive matches under his belt after just a portion of the season. His first action came against now No. 8 Oregon State, who he blanked until the second overtime period. He's started in a Milwaukee Cup and just last week, earned his first clean sheet against a then-undefeated Nebraska-Omaha squad.
"It's all been good experience for him … especially for a goalkeeper," Bennett said. "When you look back, you want to see someone that is out and heads up, fully engaged and confident that they can do the job."

About the Writer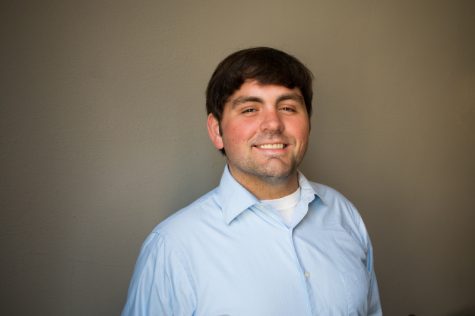 Jack Goods, Sports Editor
Jack Goods is the sports editor of the Marquette Wire, covering the men's soccer, basketball and lacrosse teams. He is a senior from Buffalo, New York...