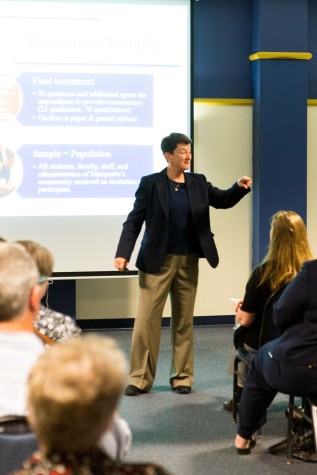 The results of February's campus climate survey were released this week and the university is in the process of deciding its action plan.
Survey takers were undergraduate students, graduate students, faculty, staff and administrators. 4,293 of them took it, resulting in a 31 percent response rate. Marquette needed responses from 30 percent of campus to accurately collect data and generalize results for the university climate study.
Susan Rankin, the study's consultant, said the response rate is excellent compared to other surveys she conducted this year. The University of Wisconsin-Milwaukee had an 8 percent response rate during the 2010-'11 school year, the lowest response rate she ever received.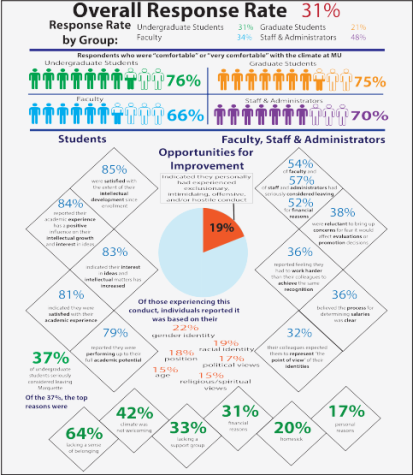 Rankin worked with a committee to conduct the study throughout 18 months. Town hall meetings on Tuesday and Wednesday were held to present the study's results to the Marquette community.
"Campus climate influences student learning," Rankin said. "If learning is our reason for existence in higher education, then we should be concerned about climate."
Eleven undocumented residents took the survey, making up 0.3 percent of all respondents. Rankin said it's important to realize that undocumented students are on campus, and administrators need to provide for them.
The survey contained 99 qualitative and quantitative items measuring campus perception of overall comfort level, work life, academic success and sexual assault.
The survey measures undergraduate academic success and intent to pursue education. According to the results, female undergraduate students perceived higher academic success than their male counterparts. White students perceived higher academic success than any other race and heterosexual students perceived higher academic success than LGBT students.
Faculty reported an overall positive work life attitude. Eighty-seven percent reported that their supervisors are supportive of work flexibility. Eighty-one percent reported that Marquette provides employee resources to help balance work life issues. Seventy-eight percent reported believing that the parental leave policy was consistently applied across all faculty members.
However, Marquette has policies in place which give supervisors flexibility with allowing employees time off. Rankin said this policy contributes to a negative staff climate because it causes perceptions of inequality, even if none were intended.
Nineteen percent of respondents reported experiencing exclusion, intimidation, offensive and/or hostile conduct on campus. Rankin said this compares to 20-25 percent of respondents who experienced hostility in similar reports at other schools.
Of those experiencing that conduct, the top three types were feeling disrespected, ignored/excluded or isolated/left out. Rankin said this is unusual compared to other universities she studied.
"All these subtle kinds of things are unique to Marquette," Rankin said. "Those are usually derogatory comments or things you can see or observe more often."
The data also shows that 81 percent of students were satisfied with their academic experience.
"We have students who come to Marquette, enjoy the academic experiences, still want to get the degree but have struggles in Marquette's environment because of the way the community has treated them, perhaps either with indifference or with various types of bias," said William Welburn, associate provost for diversity and inclusion.
According to the survey, four percent of respondents reported experiencing unwanted sexual contact at Marquette. More women than men reported this. When analyzing that number, Rankin warned against comparing it to national statistics out of context.
"There is no national way of identifying sexual assault," Rankin said. "Definitions are very different about the way we get those numbers."
The report also noted that 35.5 percent of 186 participants who reported being victims of sexual assault said they did nothing about it.
Marquette is planning three steps for improving campus, based on the climate study's results. The university is hoping to have them finalized by fall 2016.
"It would be very nice if in 2016, following what (Rankin) told us, we have these three things we said we're going to get done," Welburn said. "We should see the light at the end of the tunnel at this time next year."
Marquette Student Government is working for positive change on campus with a number of diversity initiatives. Those include a privilege walk, which will highlight students' hidden realities.
MUSG Vice President Aliya Manjee, a junior in the College of Arts & Sciences, said another diversity initiatives is an attempt to stop student-to-student bullying. The survey found that, for those who reported observing harassment, 31 percent experienced it in a public space.
Manjee said MUSG is working on a project called Take Back the Yak, which will have students on Yik Yak post and up-vote positive messages, while down-voting negative or insulting posts.
Although the university and MUSG are planning initiatives around campus, Manjee said one of the best ways to positively affect Marquette is for students to stick up for one another.
"Recognize that everyone comes from a different background," Manjee said.  "I think that that's one of the main reasons why these students feel excluded, because they are afraid to be who they are."
Manjee urged students to practice bystander intervention and call out harassment or discriminatory actions they observe.
"Be an ally," Manjee said. "And yeah, that can be scary, but then you are an ally to that person who may have felt like they were isolated in that situation."