Volleyball: 2 freshmen to sit out for season
""They're going to be extremely valuable in year five for this program," Theis said.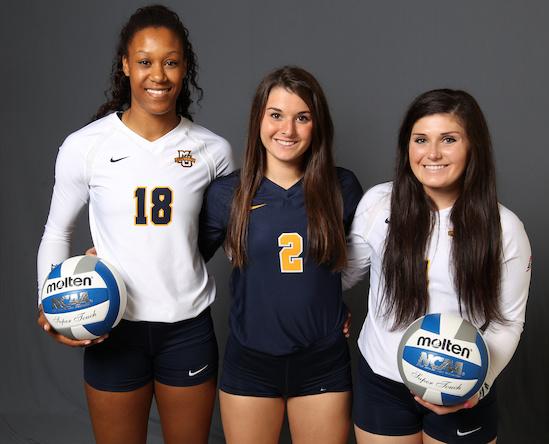 Marquette volleyball head coach Ryan Theis told the Marquette Wire on Saturday that he plans to redshirt freshmen Amanda Green and Abby Julian. This would mean that neither Green nor Julian will see any playing time this year.
"They're still learning what we want out of them," Theis said. "They're going to be extremely valuable in year five for this program."
This decision is not without recent precedent – Theis also redshirted outside hitter Taylor Louis last year. So far, Theis' decision is paying off; Louis earned a spot in the starting lineup and is leading the team offensively, averaging six kills per set through six matches. Theis also redshirted sophomore Jenna Rosenthal, who has seen playing time in all six matches for Marquette this year at middle hitter and is averaging 1.17 blocks per set, during her freshman year.
Redshirting Green and Julian means that Riley Burchett will be the only true freshman on Marquette's team this year. Burchett, a defensive specialist from Burr Ridge, Illinois, has seen time in all 24 games and even made her first start this past weekend against Missouri State.
Green was a highly touted outside hitter prospect at Niles North High in Skokie, Illinois, where she played alongside Louis for three years. She signed with Marquette last November as the No. 55 recruit in the country according to recruiting website PrepVolleyball.
Julian, meanwhile, signed with Marquette in May. She hails from Lewis Center, Ohio, and is listed as both a setter and a defensive specialist.
Theis said that there would be no formal announcement of the decision; they will simply not be inserted into any games this season.