EDITORIAL: Bublr Bike station on campus might see limited success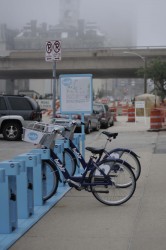 Transportation is a major factor in how students are able to explore the surrounding communities. While some are lucky or have enough of a need for a car on campus, the rest must walk, catch the bus or ask for rides to get around Milwaukee.
Recently at Marquette, there has been a push to add another option with a Bublr bike station on campus. Zack Wallace and Aliya Manjee, Marquette Student Government president and executive vice president-elect, hope to bring a station to campus by the end of the academic year, a considerable challenge with less than a month left in the semester.
It is, however, a logical move in continued efforts to increase the connection between campus and the rest of Milwaukee. Moving forward with such plans, the intentions of having Bublr on campus need to go further than just facilitating students' transportation on campus. Hopefully, this could ensure the success of such an initiative or lead to further action.
Bublr has become a prominent feature throughout the city, especially now that the weather is nice, and allows for city-dwellers to use rental bikes in the downtown area. People can take one out for an hour or a whole day and simply return it to any rack when they are done.
Currently, the Bublr station closest to campus is on Fourth Street and Wisconsin Avenue, a decent distance away from campus and not exactly of easy use to students. While it seems like a no-brainer and a smart investment for both the business and students, getting just one station would be a feat, but could be a half-executed plan.
With a limited number of bikes at each station, only a dozen students could bike around at one time, while the rest of campus would wait its turn or have to travel off campus to find a bike. Bike usage would also not be restricted to students, as other people in Milwaukee could also utilize a station on campus, possibly limiting bike usage for students and taking bikes even further away.
In its current inception, having a bike station on campus may not have the major impact people currently expect and desire.
There remains the question of what campus would really get out of having Bublr on campus. While it could allow students to get off campus, it also has the positive impact of opening up campus to people in Milwaukee. The initiative is therefore not all about students and their ability to get around campus faster. Marquette is a small campus with both busy streets and sidewalks and shortening the trip from Mashuda to Cobeen is not a logical enough reason to pursue the initiative.
A possible solution to the limits of having just one station would be to advocate for a couple of stations on campus, while also encouraging students to seek out stations off campus. Campus could further incentivize student use of Bublr by getting everyone an account similar to what we have through our Milwaukee County Transit System bus passes. Further integrating Bublr on campus could have more of the initiative's desired impact for students.
Exploring Milwaukee by bike has its benefits and it couldn't hurt to make this possibility more available to students, yet campus should manage its expectations if a closer Bublr station comes to fruition. For now, students still have options and can find ways to get around the city.