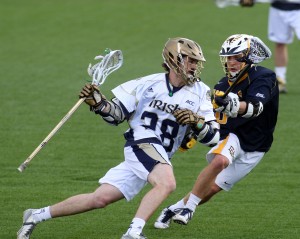 No. 15/16 Marquette heads to Providence this weekend, looking to stay on pace with Georgetown in the Big East standings.
The Golden Eagles were handily defeated by No. 1/1 Notre Dame Tuesday 14-7. The team jumps back into Big East play and will see a much different team than the high-powered Irish.
The Friars (4-6) have gone cold as of late, losing their last four games. That includes a 17-7 blowout loss to St. John's, who Marquette defeated Saturday. Providence did hang with Georgetown this week, losing 9-6.
If Providence loses to Marquette they will fall to 0-3 in the Big East. With games coming up against No. 5/5 Denver and Villanova, Providence could be in danger of going winless in conference. Another loss would make it very likely the Friars miss the conference tournament.
"This is a must win for them," coach Joe Amplo said. "We're playing it like a must win for us. We know the importance of this game… Our guys are using this as a playoff game."
The Golden Eagles can clinch a Big East tournament berth with a victory, since they hold head-to-head tiebreakers with Villanova and Providence.
The Friars struggle offensively, only passing the 10-goal mark twice this season. Junior attackman Will Mazzone leads the team with 15 goals and 10 assists. Four different Golden Eagles have more goals; graduate student attackman Jordan Greenfield, junior Conor Gately, redshirt junior midfielder Kyle Whitlow and sophomore midfielder Ryan McNamara.
However, Providence did pull off a victory against Villanova last year for its only Big East victory.
"Providence is a better team than (its) record shows," Amplo said. "Each year they've beaten a big Big East opponent."
Bryan Badolato's three goals helped Marquette defeat Providence last season in a game marred by scoreless droughts. Marquette failed to find the back of the net in the second and fourth quarters.
Despite the lopsided nature of the Golden Eagles' previous game against Notre Dame, Amplo believes the game can get stronger. He said that every game is a chance to grow, and that growth is magnified in an important game.
"I think you learn more from your failures," Amplo said. "I think that's going to better focus our guys moving forward. If we had won yesterday, the Providence game would have been a really challenging game to get our guys ultra-excited for. Now that we lost, I think our guys are laser focused."
The two teams face-off at 11 a.m. from Schneider Arena in Providence. Marquette will close out the regular season with home games against No. 7/7 Duke and No. 5/5 Denver.