Marquette looks to rebound from first loss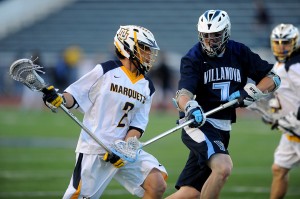 No. 13/12 Marquette returns to action this weekend against Villanova in a likely battle for Big East tournament position later this spring.
Marquette hopes to turn its fortunes around after the team's first loss of the season Saturday at Georgetown. The Golden Eagles came back from down 8-2 at half, but two penalties in the final minutes led to Georgetown's go-ahead goal. This week's game against Villanova is an important game for the Golden Eagles, who are looking to avoid moving to 0-2 in the Big East.
"I think we need to work on our transition game," sophomore attackman Kyran Clarke said. "We let a couple transition goals in from us going back to (defense)… Of course ground balls can also use some work."
"We definitely learned from it," sophomore midfielder Ryan McNamara said. "We came out pretty slow in that game. This game we're going to stop trying to play from behind and come out and get the lead right away."
McNamara said the team was worried about its low offensive output in the first half last weekend, but after the success down the stretch and further analysis, the group isn't worried about issues going forward.
"After we looked at the film we actually played pretty good offense, we just missed a few of our chances," McNamara said. "We had opportunities, we just didn't finish them."
Coach Joe Amplo and McNamara pointed out a need for patience on the offensive unit. They believe the team is settling for the first opportunity instead of waiting for a better one to present itself. If the Golden Eagles are able to produce their average amount of goals, it could be enough to beat a cold Villanova team.
The Golden Eagles are catching Villanova on the downswing. The Wildcats are coming off a two-game skid in which their offense has sputtered immensely. Villanova has only scored six goals in its past two games, an 11-2 loss to No. 3/3 Maryland and an 11-4 loss to Fairfield. Villanova did pull off wins earlier this season against Penn State and Penn, who were both ranked at the time. However, both Pennsylvania schools now have losing records.
Villanova is sitting at 5-3, and still receiving votes in both polls. Another loss would likely push the team out of consideration. Marquette says that it expects a very motivated Villanova team, who is due for a good performance. The game will be the first conference affair of the season for the Wildcats.
"I'm expecting a completely different team than has performed the past two weeks," Amplo said. "They're good. They're talented. I think they've got some really good young players. They are an excellent offensive team, and for whatever reason the past two weeks they haven't been very successful."
"I expect them to come out with just as much fire as we are," Clarke said.
Villanova is one of two Big East schools that the Golden Eagles have not yet defeated. The Wildcats beat Marquette twice last season, including in the first round of the Big East tournament.
"It would mean we'd be 1-1 in the Big East," Amplo said about the meaning of a win over Villanova. "We don't look at it like that. We just look at it as the next game. We've got to get a win here in the Big East Conference."
Faceoff is set for noon Saturday at Villanova Stadium. The game can be viewed on the Big East Digital Network. The Golden Eagles will have a quick turnaround following the final whistle, as they prepare to play Bellarmine Tuesday.