'Life Itself' animates late film critic's legacy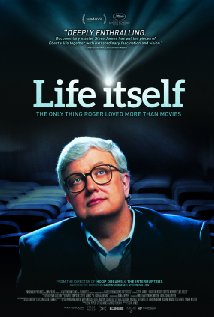 Roger Ebert's final blog entry a day before his passing is titled "A Leave of Presence," and he begins by simply thanking his readers. It serves as an indefinite farewell to his audience. He knew his time was limited, and his health was rapidly deteriorating.
"So on this day of reflection I say again, thank you for going on this journey with me," Ebert wrote. "I'll see you at the movies."
Those were the last of Ebert's words his audience ever read.
"Life Itself," based on Ebert's personal memoir, began production in fall 2012 and just got picked up by Netflix this week. Director Steve James decided to explore the world of arguably the most influential film critic the world has ever seen. Ebert was very involved with the project, but since surgery that removed a tumor in his jaw, Ebert lacked the ability to talk. In the film, he types through a computer that reads the messages out loud.
As a television film critic, Ebert understood how essential his voice was to his career, yet he maneuvered around the incident by creating a blog to communicate his thoughts.
"I lived in a world of words long before I was aware of it," Ebert said. "My blog became my voice, my outlet. It let loose my flood of memories."
The interview with Ebert takes place in his hospital room as he recovers from a hip fracture, which registered as his fifth stay in the same rehabilitation hospital. The fracture, initially lacking any apparent cause, is later revealed to be the result of a cancerous tumor in Ebert's hip.
The interviews are raw and emotional at times. Ebert acknowledges the hardships to the film crew, but he explains that all documentaries should tell their stories as they are, to tell the truth. He endorses the cameras being in the room.
The documentary bounces around between Ebert and his friends and colleagues who describe the wild adventure it was to live with (and at times, put up with) Ebert. His ego often got in the way of his relationships, but it created a driving edge that Ebert kept with him until his final minutes.
The film explores his younger days at the University of Illinois at Urbana-Champaign. It was there, as the editor-in-chief of the Daily Illini newspaper, where Ebert developed his journalism skills, and they carried over to his career as the head film critic of the Chicago Sun-Times.
His longtime partner-in-crime, film critic Gene Siskel of the Chicago Tribune, built a professional bond that created dramatic television. The two initially refused to work with each other on television as they viewed each other as professional rivals. Regardless, their film criticism television show began as "Opening Soon at a Theater Near You," which was simply a discussion about the current films. The two were wooden and their tension reached out into viewers' living rooms, but the show eventually caught on as the two developed their own on-camera personalities and received national attention.
We see the duo appear on "The Tonight Show" for an interview with Johnny Carson. On one of the biggest stages, Ebert demonstrates the frank nature of film criticism. When asked which films he advises audiences to avoid, he responded with the 1986 comedy "Three Amigos." Chevy Chase, one of the leading actors in the film and a featured guest on the show that night, sat on the couch next to Ebert. Chase hilariously mocks Ebert while his back is turned, but Ebert knows this and slips out a laugh.
Ebert always shared his honest opinion of a film, and he had no fear telling someone their movie was terrible. Bravery and honesty are the true models for film criticism, the traits that Ebert so brilliantly mastered.
Not only has Steve James made a film about Roger Ebert, but he has animated the words of Ebert's blogs, transforming them into the very art to which Ebert devoted his life. To say "Life Itself" is a tribute is misleading; rather, it's an unabridged look into the legacy of Roger Ebert's career. The film is engaging, emotional and educating, just like some of the greatest films in the history of cinema.
In honor of Ebert's life, his annual film festival, Ebertfest, still continues at the University of Illinois at Urbana-Champaign. Those he touched with his reviews keep his spirit alive by admiring not only his work but the beautiful art of film, and we can all start by watching "Life Itself."
★★★★ out of 4