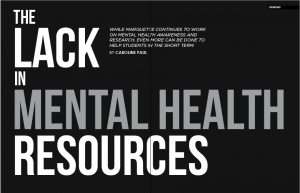 You may have seen it on a syllabus for class. Though not every syllabus says it, there are a good number of them with a blurb about the Marquette Counseling Center. Just a brief paragraph about the resources available to you if you feel overwhelmed or concerned about your mental health.
The mention of mental health issues in something as banal as a syllabus is part of a larger trend. There is increased awareness of mental health, concerted efforts to erase the stigma of mental illness and awareness of treatment and therapy options.
There is a mental health week and a world mental health day. There are countless organizations dedicated to the promotion of mental health.
Because one in four people will experience a bout of mental illness in any given year according to the National Alliance on Mental Illness, these increased levels of awareness and advocacy are not a bad thing. Mental illness is a real problem with real consequences. Living with an untreated mental illness can reduce quality of life on its own, in addition to an increased likelihood of other chronic illness.
Mental illness can also be tremendously expensive. According to the National Institute for Mental Health, as a nation, mental illness costs us over $300 billion annually. That's money that the government spends on disability, money patients spend on their own healthcare and money lost to decreased levels of productivity.
Mental health is a serious issue. In 2014, a little over 42 million people were living with some kind of mental illness. For comparison's sake, that's more than the total number of people living in the state with the highest population, California. But at least we're paying more attention to it as a society now.
Marquette does have resources available and is actively working to learn more about mental illness. The Counseling Center provides individual and group therapy to students who need it. A recent $5 million gift will be used to establish the Charles E. Kubly Mental Health Research Center in the College of Health Sciences. The center will be focused on mental illness research to develop faster and more effective methods of treatment.
We have the present covered with the Counseling Center, and the future covered by the Mental Health Research Center.
Is it enough? Though the Mental Health Research Center will likely do wonderful work, it will be years before the research performed there can produce results to be put into practice. This leaves us with the Counseling Center.
The Counseling Center is a useful resource. It's right on campus, students don't need to worry about having to pay and counseling is considered an important component of treatment for a variety of mental illnesses.
It is useful to have the Counseling Center available, but it still is not a perfect resource. It has limitations.
The Counseling Center is intended to serve the Marquette community, and it does. However, at any given moment, it is only serving a small portion of the total community. Part of this is the nature of counseling: not everyone needs it. Not everyone is struggling with their mental health or going through a rough patch. Not everyone needs to be served by the Counseling Center.
However, there are people who could benefit from the Counseling Center who are not using it. There are those who are unaware of its existence or are just reluctant to seek help. And there might be some who were using its services, but are no longer because the center describes all its services as "short term."
Essentially, students are able and encouraged to seek counseling if they feel they need it. But they cannot stay with the Counseling Center forever. After a certain period of time, students are referred to external services.
On one hand, this is a practical move on the part of the Counseling Center. If someone decides to enter counseling first semester freshman year, it would be difficult to provide for them and every other person using counseling services. There isn't a large enough space or staff to provide for students who seek counseling long term.
While referring students whose time is up to external services might be practical for the Counseling Center, it can be less practical for the students using its services. The three primary advantages of the Counseling Center are its convenience, its cost and its efficacy. The convenience factor may or may not still apply with a referred counselor, depending on how close that office would be and the availability of appointments. Cost can also become an issue, depending on insurance or lack thereof. While counseling can be effective, there can be hiccups when there's a change in counselor.
While a patient would sign a release so their Marquette counselor could share information with a new therapist, there would still need to be an initial appointment with the new therapist before treatment could continue. And the patient would have to start from scratch in building trust with a new therapist, which could slow down the course of treatment as they get comfortable.
Care is not long term; nor is it immediate. No one is expecting that one counseling session to immediately resolve all the issues of the person seeking counseling. But certain mental health issues might need the option for immediacy.
Depression, bipolar disorder and anxiety can result in situations that require that kind of immediacy. Someone experiencing a severe anxiety attack can become physically sick or unable to function. Depression and bipolar disorder can result in suicidal thoughts, and depending on the degree of severity, those thoughts may need to be dealt with immediately.
There are crisis intervention resources available for urgent situations. During business hours, there is always a counselor available for walk-in appointments and even after hours an on-call counselor or the Department of Public Safety can be reached for immediate assistance.
Immediate incidents are not necessarily wrapped up as soon as the person is feeling functional again. Marquette is an academic institution; students have papers and exams and other obligations with tight deadlines. Someone who is seriously contemplating whether or not they want to live probably does not have the mental energy to allocate to studying for an exam the following day.
Since stigmatization of mental illness still exists, students ill-prepared to meet an obligation like a test or project due to a mental health crisis might be reluctant to call in sick or ask for an extension on a paper. But these illnesses are just as real as strep throat or pink eye, which automatically qualifies for a sick day and a doctor's note so you're not contaminating anyone. Granted, mental illnesses are not contagious, but there needs to be a better way for students to communicate they are unwell that does not make them feel uncomfortable.
A person's health is a private matter. Most people do not want to go spouting off to other people they don't know very well about issues they're having with their health. Illnesses like lupus and chronic fatigue are not stigmatized, but someone who lives with them might not want to talk about it with strangers. In those cases, however, it might be less awkward to communicate to a professor that you have a health issue and might need more flexibility.
Telling a professor you were unable to study for an exam because of a paralyzing anxiety attack is more awkward. The personal nature of illness and the stigmatization of mental illness can make it more difficult to talk about your mental health with a professor you hardly know.
Someone who is legitimately in a mental health crisis at any given moment is not faking it to get out of doing something. No one wants to experience that, much less talk about it with someone unfamiliar. There needs to be a mechanism in place for accommodating mental health crises as they affect academics.
Counselors cannot write you a doctor's note even if your issue is much more pressing than pink eye. But there are so many factors to how someone deals with their mental health and communicates it to others. But fear of embarrassment and a hesitance to share personal information makes it hard for students to achieve their full potential if they feel unable to discuss it with their instructors.
Marquette has the short term covered with the Counseling Center, and the long long term covered with the Mental Health Research Center.  But this leaves out the immediate and the long term. Referral can be tricky for some as it relates to counseling. There are some resources available for immediate care, but not immediate care with respect to academics. Since academics is why we're here, that needs to be part of that emphasis.
We are paying attention to the mental health conversation, but there is still more we could be doing on campus.