Charlie Lyon signs with Seattle Sounders FC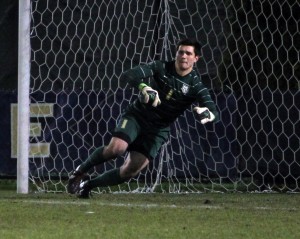 Former Marquette men's soccer goalkeeper Charlie Lyon signed with Seattle Sounders FC today, joining the first team roster. The 6-foot-2 keeper has been in the third position on Seattle's depth chart, projected to start with the team's USL Pro affiliate, fittingly called the Sounders 2.
"It was a long preseason not knowing," Lyon said. "You just show up each day and work hard. That won't change, but it is a relief to have the contract signed and move forward."
Lyon has been training with the organization for the past few months, including some preseason action with S2.
"It's an adjustment from college to the professional game," Lyon said. "I feel like I've been doing pretty well and I have a lot of room to grow."
Lyon was drafted by Seattle 75th overall in this year's MLS Super Draft. He was the second Golden Eagle drafted this year, following teammate Axel Sjoberg. He became the first Golden Eagle alum to join the Seattle organization.
Lyon left Marquette highly decorated, including being named the co-Big East goalkeeper of the year in both his junior and senior season. This season he set the school records for consecutive shutout minutes, career goals against average and career shutouts. He started every game this year for the Golden Eagles, playing in every minute of the season.
Lyon was signed along with Oniel Fisher, pushing Seattle to the roster limit of 28.
Video: Lyon talks with the media following his signing
Leave a Comment