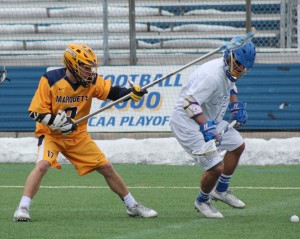 Redshirt junior defenseman B.J. Grill has developed into Marquette's top defenseman. He was the Big East defenseman of the week twice last year, and once this season. He was featured on the pre-season All-Big East team, the only defenseman to be unanimously chosen.
"The way we've won and the personality of the team, it's his," Marquette coach Joe Amplo said. "He has grown into a consistent leader. He's grown into the exact person that I want to be the face of the program."
Yet, in his senior year of high school, Grill was planning to not play college lacrosse at all. It appeared he'd follow in his family's footsteps by becoming the fourth generation to attend the University of Pittsburgh, a school that doesn't feature a lacrosse team.
The 5-foot-5 defenseman wasn't on many teams' radar despite a successful high school career at Bridgewater-Raritan High School, that included two New Jersey state titles, three first team all-Group NJSIAA Group and all-area selections and being named a NJSIAA All-American his senior year. He received a few Division III offers, but none he felt were a good fit. Many questioned his ability to jump to the next level due to his small stature.
"We're fortunate that he's 5-foot-5, because if he were 5-foot-9 or above he'd be playing in the ACC," Amplo said.
Grill said he emailed 40 or 50 schools his senior year, begging for an opportunity.
"During recruiting, the first thing that everyone told me was, 'you aren't going to get an opportunity to play Division I lacrosse,'" Grill said. "The first thing everyone said was, 'you can't,' rather than, 'you have the ability to.'"
His break came in the form of Marquette, a new program looking to assemble the group that would train together on campus for a year before the 2013 inaugural season. Amplo offered Grill a spot before even seeing him in person. It was a gamble that would pay off tremendously.
"His high school coach said, 'you've got to take this kid,'" Amplo said. "I trusted him."
Grill became the program's first ever commit during his first conversation with Amplo.
"I committed without knowing where Marquette was or stepping on campus," Grill said. "It wasn't a recruiting pitch, it was coach Amplo saying I have an opportunity to play here, and me just instantly saying yes."
Grill has been assigned to shut down some of the top attackmen in college lacrosse and succeeded. Last season, Grill battled Notre Dame's Matt Kavanagh and St. John's' Kieran McArdle, both second team-All Americans. Kavenagh set the Notre Dame single season records for goals and points, and McArdle became the Major League Lacrosse Rookie of the Year. Neither were able to score against Marquette, and McArdle did not record a single point.
"We start our game plan around him," Amplo said. "It's like a shutdown corner in football. If you have a guy you don't have to worry about from a double team or sliding perspective you can do so many other things defensively… I tell B.J. good luck at the beginning of the game, and I say, 'I don't want to hear from you for two hours.'"
Grill takes the challenge in stride.
"I like putting myself on an island, and (making) it be me versus either their best player or their best attackman," Grill said. "I view it as an opportunity to show not just that guy, but the coaches who watch film on me, the coaches who I play against and the people who are writing articles about us that I have the ability cover some of the best attackmen in the country."
"He's one of the most competitive people that we have on this team," redshirt junior Dan Mojica said. "It forces you to play better, to get to a different level."
Although Grill can't make himself bigger, he's turned to the film room to gain an advantage.
"I pride myself on being a mental defender," Grill said. "I really study the game… There's a 100 percent chance that the attackman that I'm going against is going to be bigger than me. There's a 90 percent chance that he's going to be stronger than me top to bottom. I've got to know when to make contact and dissecting the matchup."
"We'll watch film sometimes, and whenever we have questions on how we should play a guy he's always a good person to go to," Mojica said.
Like many on this year's roster, the doubts of others add fuel to the fire. Grill believes the adversity makes him a stronger player.
"I go into the mindset where I have to prove people wrong," Grill said. "I haven't had the opportunity to get the publicity I think I necessarily deserve. Whatever any lacrosse player says, or any athlete, they want to get the notoriety or the accolades because they feel like they can compete at the highest level. Our whole team is filled with guys who never really got what they deserve."