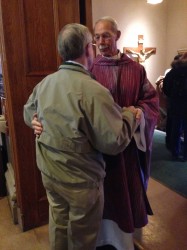 "I do not fear death."
This is how the Rev. John Schlegel, pastor of the Church of the Gesu, started announcing that he was recently diagnosed with inoperable pancreatic cancer in a letter addressed to his congregation Thursday.
Since then, Schlegel has been astounded by the outpouring of support. Baskets in his office filled to the brim with cards sit among his decor of desk plants and religious sculptures. His email inbox averages 500 unread messages at a time, and he tries to respond as promptly as possible "so they don't clog up."
The messages list the names of civic leaders, church leaders, students, students' families and couples he married. He said it shows him the ways he changed people's  lives without knowing it.
His go-to response to the messages: "Be at peace. I am."
"I think right now for me, it's a very calming presence, like a gentle snowfall," Schlegel said. "It's right there, just softening everything."
The Rev. Doug Leonhardt, one of Schlegel's friends, agreed with the importance of faith in this time.
"He knows he is in God's hands and has such a trust in God that loss turns into hope for him and all of us," Leonhardt said.
Schlegel spent the last 40 years in higher education as both a teacher and an administrator, notably as the previous dean of Marquette's College of Arts & Sciences and the president of Creighton University.
"It goes back to the Prayer of St. Francis, 'Make me an instrument of your peace,' and I'm amazed by what kind of instrument I've been in so many situations," he said.
Schlegel encouraged Marquette students to find the ways they can impact others.
"I just think your generation generally could learn that old-fashioned idea of making the world a better place," he said. "From where you stand, I really believe you can do that. The values and education from Marquette leave you well-poised to do that."
That follows up on a message he included in every graduation speech delivered at Creighton: "Don't keep your lamp under the bushel. Pull it out and let it shine forth."
"Too many people hide in corners and hide in shadows," he  said. "And you need to bring the light into those corners and those shadows."
That is part of Schlegel's broader vision for a new and improved church, the theme he's planned for his funeral.
Schlegel chuckled as he admitted, "I'm sitting here planning my funeral right now. Do you believe that?"
He chose to include the song "Sing a New Church" in his funeral service because of the hymn's lyrics.
"'Summoned by the God who made us rich in our diversity, gathered in the name of Jesus, richer still in unity' — I mean, that's what it's all about."
Schlegel described his idea of the new church as one that is "welcoming, affirming and non-condemning," and has been encouraged by the new sense of self offered by Pope Francis. For Schlegel, the pope offers a hope that the church will continue to engage in social issues such as racial divisions, immigration and gender and orientation issues.
This, too, will be a central theme in his funeral.
"The whole Jesuit thing is meant to be a religious order without boundaries," he said. "And I think I've lived that."
"I've had that true, holistic experience of life: body, soul and spirit," Schlegel added. "There's not much left to explore, so consequently I think I'm pretty well prepared for the end."
But he still has yet to issue his final sermon.
Schlegel joked and let a smile slip, "I don't think I can advertise it. I don't know when it's going to happen."
Story continues below advertisement