GOLDSTEIN: The NLI is flawed, one-sided and unfair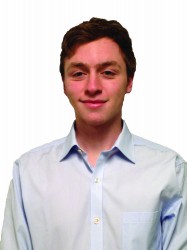 Point guard recruit Nick Noskowiak asked Marquette to release him from his commitment to the university Feb. 13, and the university obliged. But it didn't have to be that way should Marquette see value in him staying with the program.
If they were so inclined, Marquette could have forced Noskowiak to attend for a year. If Noskowiak were to contact other schools, he would have to sit out for an entire year at his new school anyway, losing a year of eligibility. Noskowiak's situation shows exactly why the National Letter of Intent, NLI for short, needs to be amended.
The NLI is a binding agreement between an athlete and the institution. On the surface, it sounds like a fair deal: the athlete is required to attend a particular university for a year and in exchange, the university provides a year of athletic financial aid. It's essentially a contract for collegiate athletes.
In reality, the athlete is signing away any sort of control they have for their future. First of all, an athlete isn't given a scholarship to attend the university, they are given a scholarship to play for the university. The athelete is really signing for four years of athletic eligibility. The school only signed on for a one-year scholarship with the ability to renew said scholarship for up to three times. If you get injured, have personal issues, or aren't as good as predicted, the university could simply rescind your scholarship.
These things actually do happen too. James Grisom, a wide receiver at California, had his scholarship revoked prior to this past season without explanation. Texas-El Paso shooting guard Isaac Hamilton requested to be released from his NLI so he could transfer to a school closer to home, which would allow his ailing grandmother to see him play. His request and subsequent appeal were both denied. These sorts of things happen to athletes across the country every single year.
Even worse, the university can void the NLI by not admitting the athlete in question, or releasing said athlete from the NLI without consulting him or her first. It sounds like no school would do something that underhanded, but this actually happened to a prospective Marquette athlete. In April of 2010, combo guard D.J. Newbill signed an NLI declaring his intention to become a Golden Eagle. Soon afterwards, though, talented forward Jamil Wilson announced his intention to transfer to Marquette from Oregon. Marquette did not have any scholarships to accommodate him, so they released Newbill from his NLI and-presto!- there was a spot open for Wilson.
Finally, an athlete can't receive legal counsel on the matter because, according to NCAA bylaws, that would violate his or her "amateur" status and jeopardize the scholarship. This means the majority of the time, these athletes don't know or understand the full consequences for signing an NLI besides it means they'll be playing collegiate athletics in a year.
The NLI needs to be amended so that athletes continue to receive scholarship money for as long as they stay athletically eligible. If that athlete gets injured or the coach decides he or she isn't needed anymore, that athlete should still continue to receive scholarship money to continue getting an education. Furthermore, athletes that commit to a school where a major coach leaves should have a two week period in which they can redact their commitments without having to ask permission from the university.
There are plenty more changes that need to be made and no system will be without its flaws, but there is a clear and flagrant power imbalance here. The NLI should have been amended years ago, but there's no better time like the present.