EDITORIAL: Winter O-Fest requires improved promotion to students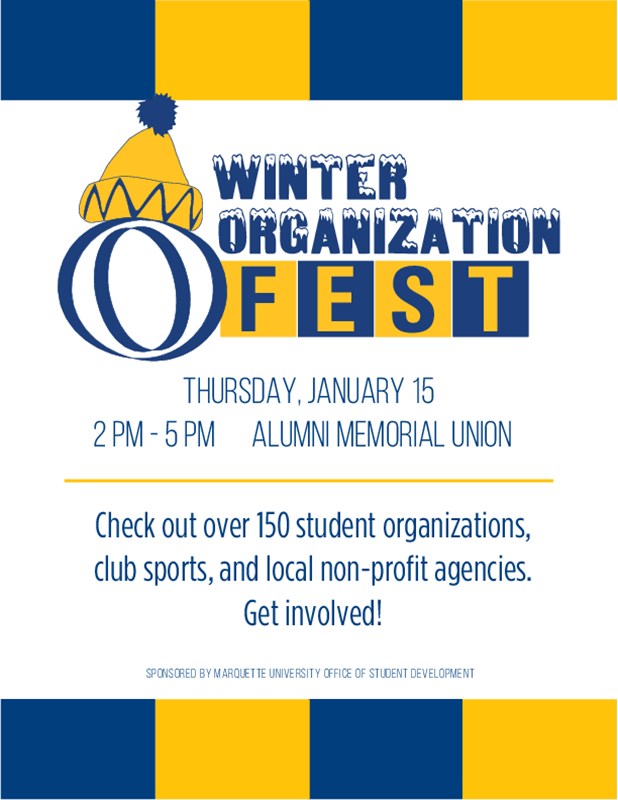 Each August, Organization Fest helps kick off the semester with a fanfare as hundreds of student organizations line the Central Mall with information booths, handing out flyers and treats to passers-by in hopes of gaining new members. Its central location makes it hard to miss, and the vast outdoor space offers room for nearly every organization on campus to take part.
Winter O-Fest, however, is relatively overshadowed each year. The reasons for it are mainly logistical: the cold weather keeps the event indoors, where space is nearly halved. By all means, the Office of Student Development and the Alumni Memorial Union do their best each year to accommodate as many groups as possible in this limited space, and Winter O-Fest still manages to bring exposure to a fair amount of student organizations.
Organizations that are unable to reserve a spot in the winter, however, suffer and  miss out on the opportunity to recruit interested students.
Winter O-Fest's indoor location may also contribute to its lower attendance as well. In the fall, O-Fest covers the paths between a majority of the academic buildings on campus and is readily accessible for students walking to and from class. Coupled with the warm August weather, students are more willing to come out to O-Fest if they can spend time outdoors with friends, maybe signing up for a club or two along the way.
In the winter, a student must make a concerted effort to attend O-Fest, held on the second and third floors of the AMU, which can mean fighting through some cold to get into a room that is beyond crowded and overwhelming.
These logistics, understandably, cannot be changed, and are dealt with as effectively as possible. What can be improved, however, is how Winter O-Fest is marketed to students.
Students who attend O-Fest in the fall may think the same organizations will be represented in the winter, not realizing there may be new offerings from organizations that formed during the previous semester. They also may be unaware certain seasonal groups, such as the Marquette Ski and Snowboard Club, run primarily during second semester and concentrate their recruitment to Winter O-Fest rather than at the tail end of summer.
Just as the Career Services Center offers a list of employers scheduled to attend their career fairs, providing a list of organizations at Winter O-Fest ahead of time could potentially help students browse through for clubs they may not have seen or heard about previously and encourage them to check things out.
Additionally, a virtual option could be explored, allowing organizations without a physical booth to still display their organization and get in contact with potential members. This virtual option could be explored on Marquette Involvement Link, set up through OSD, and encourage a greater presence of organizations online. If this ran concurrently with Winter O-Fest, students could browse their options and get in contact with club representatives from their own computers.
Winter O-Fest should be as heavily promoted as Fall O-Fest, if not more so. Each semester, students' schedules shift around, opening time for a new extracurricular to be pursued; there is also an influx of transfer students hoping to integrate themselves on campus. Winter O-Fest provides the opportunity for students to find something of interest, but it must expand its avenues to attract more students to participate in the first place.