Milwaukee Rep's 'Harvey' achieves real success with imaginary rabbit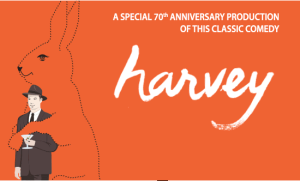 It's not every day you see a play where the eponymous character is literally invisible for the entirety of the show. But what should be jarring or annoying, is played out with grace and heartwarming clarity in The Milwaukee Repertory Theater's production of "Harvey."
Originally written in 1944 by Mary Chase (winning the Pulitzer Prize in 1945) "Harvey" tells the tale of Elwood P. Dowd (Jonathan Gillard Daly) and his unconventional relationship with a 6-foot-tall white rabbit named Harvey that only he can see. In the play, Harvey is described by Dowd as a "pooka," a mischievous spirit from Celtic mythology usually manifesting as an animal. And there are clear callbacks to characters like Puck from Shakespeare's "A Midsummer Night's Dream," especially in the tongue-in-cheek way Harvey seems to reveal himself to certain characters, teasing and wreaking a little bit of havoc wherever he goes.
It is a testament to the production and to the quality of acting that a character who quite literally only exists in the words and gestures delivered by the actors can feel so essential to the audience. This is especially apparent in Daly's performance of Elwood P. Dowd. Even though the audience (like the rest of the characters) can't see Harvey, Daly plays Dowd's unwavering conviction and humorous obliviousness to the panic of his family and doctors skillfully. As a result, Daly immediately puts doubt in their minds about whether Harvey is truly there or not.
The Rep's production is rounded out with several beautiful and clever sets. The transition between such complex sets would be near impossible without the use of The Rep's "double-donut" rotating stage, which is used seamlessly. And even though there were only two different sets, Dowd's library and the sanitarium, the ornateness and attention to 1940's-period-specific detail in both sets are essential to bringing Dowd's intimate world to life.
The play and all the actors are very good at playing off the humor crafted out of Dowd's innocence and steadfast belief in Harvey even in face of the ridicule of everyone around him. Some of the funniest moments come from hints of dramatic irony that pop up whenever Dowd refers to something Harvey has said or thinks in response to a character, to which that character (who can't see Harvey) can only look bewilderedly back in response. The audience gets this rare look at both the effect that Harvey has had on Dowd's family and acquaintances as well as the companionship that exists between Dowd and Harvey. And it's in this dual perspective that gives the play its humor as well as its weight.
It is in this depiction of Dowd's relationship to his sister, Veta Louise Simmons (Deborah Staples), and niece, Myrtle Mae Simmons (Kristina Loy), in contrast to his relationship with Harvey that brings the play from its comedic highs back down to earth. As much as Veta is concerned with her social standing, Dowd is the exact opposite. Dowd is genuinely nice to people and yet not at all concerned with the social benefits or ramifications of his generosity. It's Veta's anxiousness over the perception people have of her brother that spurs the rest of the play, but it's clear to the audience that the judgment Veta imposes on her brother is something he seems to find refuge from in his friendship with Harvey.
There is something both endearingly funny and heartwarming about the certainty with which Dowd believes in and cares for Harvey. So much so, that when Dowd calls Harvey his "best friend" it becomes harder and harder to find yourself sticking to the part of the story that seems to argue that Harvey doesn't really exist. By putting Dowd and Harvey's geunine friendship at the center of it all, the play asks the audience again and again to reimagine what it means to be "sane" or "insane" and to rethink how blurred the lines between the two may truly be.
"Harvey" runs Nov. 18-Dec. 21 at the Milwaukee Repertory Theater (108 E. Wells St.). Tickets can be purchased online at milwaukeerep.com or by calling the ticket office at (414) 224-9490.
Leave a Comment