'In the Red and Brown Water' brings diversity to the stage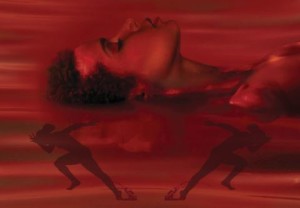 When UPROOTED Theatre Artistic Director Marti Gobel first pitched "In the Red and Brown Water," she described it as "Our Town—in the hood." Coincidentally, that was the play Marquette's theater program chose for its 2014-2015 season premiere.
The story follows the struggles of Oya, a young woman who aspires to escape life in the projects and become a track star. She receives such an opportunity when offered a college scholarship, but is forced to stay in the projects to care for her ailing mother. The play also uses Yoruban spiritual culture and Greek chorus style narration to explore Oya's struggles of growing up in the "hood" and her transition into womanhood.
Gobel was approached by Stephen Hudson Mairet, an associate professor and chair of digital media and performing arts and artistic associate professor of digital media and performing arts Debra Krajec for a possible collaboration between UPROOTED and Marquette. The increase in theater students of color led to the collaboration with UPROOTED, the largest African American theatre in Wisconsin.
Gobel said this year the program enrolled the largest amount of theatre students of color and they felt it was their responsibility to make sure that they had professional ties to the community. Along with Gobel, local professional actors Ericka Wade and Ken Williams joined in the production as well.
The cast is predominantly African American, allowing for more opportunities and roles for students. That is why Alessandria Rhines, cast as Oya, said she finds the production unique.
"It is not everyday that you will be able to see so much diverse talent on one stage," Rhines said. "It is refreshing and a blessing to have students, professors and professionals who care enough about an idea to make it a reality."
Starring as the male lead, Terry Lee Watkins Jr. felt the play finally tells a different story. According to Watkins, most plays call for white leads and characters of color either are in the background or do not exist at all.
"It's nice to be the one who the story is all about," Watkins said.
Junior Michael Cienfuegos-Baca plays one of the fifteen members of the ensemble, which he said is an active part of the play and represents gods and goddesses within the Yoruba spiritual tradition. Cienfuegos-Baca said working with UPROOTED Theatre has been a rewarding experience and gave him an idea of what performing will be like after college.
"Seeing how professionals work in rehearsals and with a director is such a great experience," Cienfuegos-Baca said. "It shows us how professional we need to be and how prepared we need to be working with a company of professionals. When we see these actors completely memorized on the third day of rehearsals we realize how hard we are going to have to work in the real world."
Students enjoyed Gobel's presence as the artistic director. Watkins, Rhines and Cienfuegos-Baca agreed they learned a lot about what it takes to be an actor in the professional world from Gobel. Yet, she served as more than just a director.
"As an African American actor, she means a lot to me," Watkins said. "You don't get the opportunity, not very much at this school, or in the city for that matter, to work with people that look like you and understand the same things you go through and have the same cultural background and information."
Gobel reciprocates their feelings. At first she said it was a challenge to direct such a large cast, but in the end she found it fulfilling.
"I find that the production cast and crew is amazing and wonderful," Gobel said. "I just had a great time learning all the people who worked there, and seeing the emerging talent that is going to come out into the world."
According to Gobel, the production of "In the Red and Brown Water" is unlike anything that has been performed in the Helfaer Theatre or in the city itself. With its enticing visuals, rhythmic music and mature acting, Gobel said this is a play that everyone can enjoy. Cienfuegos-Baca and other members of the cast agree.
"This show brings a whole new cast of people together," Cienfuegos-Baca said. "There are new faces in the limelight and a lot of freshmen are seeing the main stage for the first time. The show itself is different because it involves a whole new culture to the students of Marquette, including those within the theatre department."
"In the Red and Brown Water" runs Nov. 6-16 at the Helfaer Theatre. Tickets can be purchased online or by calling (414) 288-7504. Students get discounts on their tickets, and can also purchase season passes.
Leave a Comment