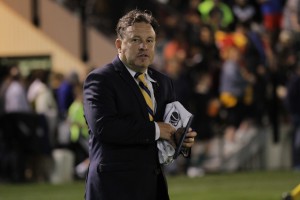 As Marquette soccer celebrates its 50th anniversary this season, the program's history has been a frequent topic of discussion. However, it is the present that excites faces of the past. Marquette soccer is the strongest it has ever been, and much of that is due to Head Coach Louis Bennett.
Bennett, currently in his ninth season as Marquette head coach, has taken Marquette to heights it had never been before. The Golden Eagles have earned spots in the NCAA tournament twice under his watch, once more than the entire rest of the program's history. They've been named the Big East tournament and regular season champions, and many of his players have made their ways to play at the professional level.
But there is far more to the charismatic coach than just these nine years. Bennett's journey to Marquette is a winding one. It all started in England, when soccer first began to hook him as a young boy.
______________________________
Bennett grew up during a conflicting decade of English soccer. Despite the national squad failing to qualify for the FIFA World Cup in 1974 or 1978, English squads dominated Champions League play. As usual, soccer was a religion in England.
"Growing up in England, soccer has been woven into the social fabric," Bennett explained. "Soccer is played in the streets, on every piece of grass that you can possibly find. Especially back in the '70s it was very important to every kid."
"The middle income was very small," Bennett continued. "The blue collar locals, (soccer) was their form of recreation … It became almost tribal."
Bennett remembers some of the most intense games growing up were ones he played with his neighbors. He credits much of his passion for the game to his youth, especially when his uncle took him to his first professional game.
"It was intoxicating," Bennett said. "It grabbed you and got into your blood."
Bennett rooted for his hometown team, Bristol City FC, who earned a spot in the first division in 1975 for the first time in more than half a century. Even after Bennett and his family moved out of the city, he frequently returned to the city to play.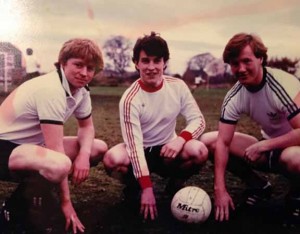 When Bristol fell out of the top tier, Bennett and his brother chose Liverpool as their new surrogate squad. They kept the tradition of sticking to the same main color, red in this instance.
It was a good decision for the two, as no team was more successful in England at the time than Liverpool, which won league championships in 1973, 1976, 1977, and 1979.
"I just enjoy really good soccer," Bennett said. "I still look for Liverpool results first, but we use teams all around the world for video … I've got a passion for the game more than just for a team."
When Bennett got older, he began looking for options to continue his playing career post-schooling. However, he was disappointed when pro teams denied him due to his lack of size. He wanted to leave school at 16, but was persuaded to stay.
"My father and one of my school teachers were really influential and probably saw the writing on the wall that I was smaller," Bennett admitted with a laugh.
So Bennett stayed in school and earned the grades for admission to Crewe & Alsager College in Cheshire, England. In college, Bennett played with many players with similar experiences, who had also been turned down by pro teams.
However, he still got an opportunity to play with a local pro team during the week and even gained further interest from the pros when he grew two inches. Bennett was also chosen to play in Great Britain Colleges International all three years he was in college. Bennett said that when all was said and done, his college team always meant the most to him.
With Crewe & Alsager, Bennett experienced one of the highlights of his soccer career, winning the British Colleges National Championship in 1982. The team played Cardiff College, which featured some players that Bennett had played with when he represented England in the Colleges International tournament. One of Bennett's best friends scored the decisive goal.
"I remember the feeling, but I don't necessarily remember specific goals. I remember this goal," Bennett said.
Not surprisingly, Bennett remembers the match very fondly, despite national recognition not being extreme. To him and his team, the match solidified all the hard work they had put in and earned the school respect at the collegiate level.
"Just that joy that I felt that I was with my buddies, my friends, and we'd won a national championship," Bennett said. "The celebrations afterwards were absolutely fantastic. That bus ride was the shortest bus ride I've ever had and yet it was quite considerable."
______________________________________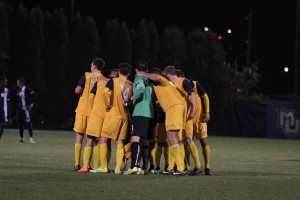 After leaving college, Bennett's journey would take him across the pond for the first time.
Bennett's British college teammates frequently went over to the United States on tour, but he was never able to make it over due to playing on-and-off with a pro team. He promised himself when he graduated, he would come to America.
Bennett's girlfriend Julie, who eventually became his wife, convinced Bennett to come to the U.S. to coach camps. He planned to tour the country, but received advice that he should try out for the New York Arrows, an indoor soccer team that won the first four championships in the Major Indoor Soccer League from 1978 to 1982.
He began to train to get as fit as possible and made it to New York in 1984. There he stayed in a hotel with another player trying out for the team who had played for Peru in the World Cup. The team had many international players, some of whom Bennett looked up to as a kid like former Manchester United and Queens Park Rangers midfielder Gordon Hill.
However, the amount of international players made Bennett weary due to the limit on foreign players per team. That led him to cut his time with New York short at only two months after receiving a phone call from the Kansas City Comets.
Bennett would sign his first indoor soccer contract with Kansas City, although he admits that he did not play very well there and  began to get homesick. He was put on waivers and was not picked up by any team. So he returned to England, where he played for a pro club for four weeks before getting injured.
While rehabilitating, he was asked to return to indoor soccer. He began to realize that his future would be in the U.S., and indoor soccer was his only option because of the lack of an outdoor American pro league at the time.
While in Kansas City, Bennett had played with Tim and Tom Alioto, who played for the Milwaukee Wave by 1985. They told the coaches about Bennett following a car accident involving some players. The team decided to give him a shot. He would play with the Wave longer than any other team, beginning to establish Milwaukee as his home.
Bennett played three seasons with the Wave, his best in 1985-86, when he scored 21 goals and nine assists. He finished fourth on the team in points all three years.
The Wave still exist today as a member of the newly formed Major Arena Soccer League. They are the longest running indoor soccer team in the country.
Although the indoor soccer life was not glamorous, Bennett said it was all about the love of the sport.
"If you've ever watched the film 'Slap Shot,' we have the same stories," Bennett said. "Traveling on buses for hours on end, on pretty dilapidated stadiums, in front of sometimes 8,000, sometimes 80 people, including the staff. Having stuff thrown on you, popcorn, getting smacked around. It was great."
"We were doing this all for very little money, but it wasn't about the money," Bennett said. "We were the true pioneers, because we never had enough money to save."
After his three seasons in Milwaukee, Bennett was traded twice in two years to finish out his career. He played the 1988 season with the Dayton Dynamo and the 1989 season with the Memphis Rogues. Unfortunately, he was badly hurt in Memphis. He underwent an exploratory operation and had part of his hip removed. He held out hope for a return to playing, but it took 18 months of rehab for him to be able to run normally again. At 29, he knew that his playing days were likely over.
___________________________________
While playing in Milwaukee, Bennett began to take part in projects that he felt would help ensure his future. He founded the British America Soccer Program in 1987, which started as day camps, but evolved into an overnight camp and then a touring camp. He also coached both the boys' and girls' teams at Nicolet High School in Glendale, Wis. He knew coaching would be his new calling.
"I would hope that I would be a better soccer teacher than I was a player," Bennett said.
Bennett got his first taste of American collegiate soccer in 1993, when former Wisconsin-Milwaukee coach Brian Thompkins approached him about being on his staff. Thompkins had also played college in England and the two became friends when Bennett played for the Wave.
Bennett cites Thompkins as one of the most influential people in his collegiate career. Thompkins taught him the do's and don't's of the NCAA and helped him further understand the American system. College turned out to be the right fit for Bennett, as he would be able to instill the same lessons he learned while playing at Crewe & Alsagar.
"I found my way back to college because I fundamentally believe that for people developing their brain, their soul, and their athleticism, college can provide that," Bennett said.
After having a down season the year before his arrival, UWM won 16 games and went undefeated in regular season play in Bennett's first year as an assistant.
Three years later, Thompkins would leave UWM to take the head coaching job at Yale, a position he still holds today. The school turned to Bennett as its next head coach.
Bennett excelled at UWM, establishing himself as one of the top coaches in the country. In his ten seasons at the helm, Bennett was named the Horizon League Coach of the Year five times and guided the Panthers to five straight NCAA tournament berths. The Panthers were Horizon League champions four years and had a losing record only once, a season during which the team took one step back to take two steps forward, according to Bennett.
After ten seasons, Bennett decided to move across the city to a Marquette program looking for a resurgence.
"I've always said success is a double-edged sword," UWM athletic director Bud Haidet said after Bennett's departure. "We enjoy the successes but know, as all mid-major programs know, retention of successful coaches can be near impossible in some cases."
Bennett is the most successful coach in UWM history. His last regular season game would be a 4-0 victory over Marquette at Valley Fields.
_______________________________
Before receiving the offer to coach at Marquette, Bennett already knew that his time at UWM was coming to an end.
"I knew my time was over because I couldn't do anymore," said Bennett. "We would need training facilities."
He had other options for coaching positions, but keeping his family in the same place was important to him. He saw Marquette like he was looking at a new home. One that needed some work but full of potential.
"What I thought was a golden ticket came … a great opportunity to build again," Bennett said.
Wins did not always come easy at Marquette for Bennett, who jumped from a 14-win UWM squad to a Marquette group that had won just five games the previous year. He experienced firsthand the patience necessary in completely rebuilding a program.
In Bennett's first season, he won only one game. In his second season, only two. Slowly the win totals rose season-by-season as Bennett began to bring in his own recruiting classes.
"The first three years were the most challenging," Bennett admitted. "They could have been disastrous if the administrators didn't believe it was a long-term vision."
But then things began to click.
The team continued to move up in steps. In 2010, Bennett earned his first post-season win at Marquette, defeating St. John's in the first round of the Big East tournament. In 2011, Bennett and his staff were named the Big East Coaching Staff of the Season after winning the school's first Big East regular season title. Marquette earned its highest ever ranking in program history in 2012, moving into the No. 2 spot in the 2012 rankings, thanks to the Golden Eagles 12-game winning streak.
Last season was the pinnacle of the program, as Marquette won its first ever Big East tournament championship. After earning a bye for the first round, the Golden Eagles earned their first ever NCAA tournament victory in dramatic fashion. Coco Novarro scored from a cross in overtime to lift Marquette over perennial soccer powerhouse Akron.
"I know there were many doubters," said Bennett. "I received a letter (from a man) who confessed to writing a letter to the athletic director wanted to have me fired … I didn't care what anyone outside the program said."
Bennett says he'll never forget those that believed in him in the early years, allowing him to have the stability to truly build the program. He does not feel malice towards those who were not convinced early on either, even players. All are still welcome members of the program.
Marquette soccer has become a fixture in the top-25 rankings. The Golden Eagles have seen numerous alumni move on to the professional ranks, including MLS draft picks Calum Mallace and Bryan Ciesuilka. Marquette soccer has an identity.
"It's everything that I wanted," Bennett said. "I want students to love it as much as I love it. Soccer means something to this country and this university. I love it."
______________________________________
Bennett is eternally grateful to the sport that has taken him across the world and all over the United States and has allowed him to support his family for all these years.
"I owe (soccer) so much," said Bennett. "I'm always protective of it. It's a jewel, it's a diamond."
Although he does have other hobbies, soccer is his true passion. After all of these years of devotion to the sport, it would be surprising if it were not.
"People think that I'm crazy because there are two things that are in my life, my family and my sport," he said. "That's not going to change, it's done everything for me. It's not about what I've done for the sport. It's what the sport has done for me."
But the story is not over yet, for Bennett or Marquette soccer.
"We're not finished now," said Bennett. "We still have to move forward."