Bastille impresses a packed house at Milwaukee Theatre
With a killer light setup and amazing vocals, it is no wonder Bastille managed to pack the Milwaukee Theatre with hundreds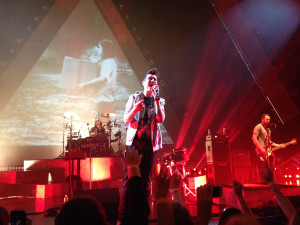 of cheering fans on Saturday night.
There was no rest for the English rock band as the musicians performed 19 songs, opening with "Things We Lost in The Fire" and ending the night with chart-topping hit, "Pompeii." Lead vocalist and band founder Dan Smith kept the audience engaged and entranced as he sang and showcased his (lack of) dancing skill.
Everyone in the audience, from junior high girls dragging along a reluctant dad as chaperone, to throngs of high school and college-age students, decked out with Bastille merchandise, many of whom had been in line for five or more hours, chanted the names of the band members.
Bastille worked the crowd well, smoothly transitioning from song to song while encouraging audience participation. The emotion of "Oblivion" became a highlight of the night as Smith encouraged fans to take out their phones to use as "torches," their glow then provided the only light in the theater and set the mood of the song.
The indie-pop smoothness of Bastille's music and Smith's vocals were also applied to their mash-up "No Angels," a cover of "Angels" by xx and "No Scrubs" by TLC, a fan favorite as the crowd enthusiastically sang along to the lyrics.
Smith joked that he was a terrible dancer, saying he was embarrassed by the crowd enthusiastically imitating his dance moves (mostly jumping) all the same.
But nothing could prepare the crowd for Smith's decision to walk out among them during "Flaws." Flanked by security, Smith jumped off stage, mic in hand and walked to the back of the theatre, giving high-fives to a roaring crowd as a spotlight followed him.
Bastille's light setup was well done and brilliantly used. From the moment a black curtain dropped to reveal a screen in the band's signature triangle, surrounded by angled light fixtures, the crowd expected a great show and was not disappointed. With projections featuring images going with the songs and beams of color-changing spotlights framing the band, the lights enhanced each song.
Smith rarely stopped singing to address the crowd, only to thank the audience a few times, but he did grab a camera and take sweeping shots of the crowd for the big screens on either side of the stage. At the end of the night, during the smash performance of "Pompeii," Smith urged fans to put away their phones and enjoy the song, a command few obeyed.
No one can say Bastille hogged the stage that night, as they invited their opening band, Grizfolk, to join them on stage and help sing back-up to "Pompeii," ending the night with the crowd's deafening cheers.
Established in London in 2010, Bastille has had plenty of time to mold its band image and make great music. The band is sure to create more hits in the future, but for now they certainly left behind some new fans in Milwaukee.
Leave a Comment