Selvaggi shining in first month of game action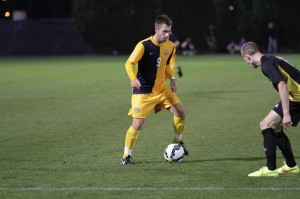 Marquette soccer is receiving high production from players entering their first years as Golden Eagles.
At the forefront is redshirt junior forward David Selvaggi, who transferred from DePaul, is developing into the star of the high-powered Marquette attack. He leads Marquette in goals and points a month into the season.
Selvaggi is a newcomer to the Golden Eagles lineup, but he certainly is not a newcomer to the program as a whole. He joined the team at the start of last season, but due to NCAA transfer regulations, he was forced to sit out a season before partaking in game action. Selvaggi prepared for months before he was finally able to don the blue and gold jersey for the first time.
"Training was my game," Selvaggi said. "It was really easy coming here, and they all welcomed me really nicely."
While Marquette was playing out one of its most successful seasons in program history, Selvaggi was forced to watch from the sidelines. That did not stop him from progressing personally.
"It was frustrating, but it was a learning experience," Selvaggi said in regards to sitting out. "I thought my learning curve really escalated during that year. Being able to sit out just made me get more familiar with the team and being a Marquette soccer player."
Marquette coach Louis Bennett agreed sitting out has taught Selvaggi about Marquette soccer.
"For anyone coming to our program, we do things a lot differently than other programs," Bennett said. "Sometimes when you've been a college player for two years you think 'I know the college game.' I don't define it as 'do you know the college game?' I define it as 'do you know Marquette soccer?'"
His outburst of production is not a surprise to many. Going into this season, Marquette knew it could be adding someone very special.
At DePaul, Selvaggi started off his collegiate career with a bang, tying for the team lead in goals and placing second on the Blue Devils in assists as a freshman. His efforts earned him a spot on the Big East All-Rookie team. Top Drawer Soccer ranked him as the 17th best freshman in the country.
However, he took a small step back his sophomore season. In 13 matches, he was unable to score a goal and only started once for the Blue Devils. It was enough to make him consider a change of scenery, and Marquette seemed to be a logical match.
David's bother Anthony was just finishing up his Marquette career during David's sophomore season. Anthony, a midfielder, earned starts in all four years as a Golden Eagle. His first goal did not come until his senior year, though, in a match against David's DePaul squad.
Through his brother, Selvaggi already knew many of the players at Marquette and battled them in Big East play.
Selvaggi's impact on the roster was noticeable immediately. He notched an assist, a pretty ball to C. Nortey, in his first ever match as a Golden Eagle. He was the only goal scorer in the Gonzaga and Drake matches, scoring two of the three goals as the team's penalty kicks specialist.
Bennett may have found himself a star forward for this season and next.
He serves as another key cog to the attacking unit, making it increasingly difficult for opposing units to focus on just one player. Selvaggi said that he and Nortey had instant chemistry that seems to be developing even more with time.
Bennett believes that Selvaggi is not only becoming a player that is tough to play against, but one that is fun to play with as well.
"Mitotically he's put into place the things that he's going to need to do to be successful here while keeping his identity," Bennett said. "I'm proud of him."
Even though he's moved up Lake Michigan an hour and a half, Selvaggi will not be entirely separated from his first two seasons. Selvaggi expects a little extra boost going into the match against DePaul Nov. 7.
"That's going to be a fun game," Selvaggi said with a laugh.
Leave a Comment