EDITORIAL: NCAA shows poor judgment in PSU inconsistency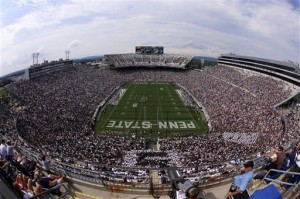 Students in University Park, Pa. were celebrating Monday as the NCAA lifted sanctions against their Penn State Nittany Lions football team, making them once again eligible for postseason play just three years after a child sex abuse scandal rocked the campus and stunned the nation.
In addition to the firing of longtime head coach Joe Paterno and the conviction of Jerry Sandusky, former defensive coordinator and convicted serial child molestor, Penn State was forced to vacate all of its wins from 1998-2011, was fined $60 million by the NCAA, lost football scholarships and received a four-year postseason ban and five-year probation. Current players on the football team, however, were allowed to transfer to the school of their choosing without losing a year eligibility as per NCAA rules, thus not punishing them directly for the crimes of those before them.
The sanctions were meant instead to change the culture at Penn State, and NCAA President Mark Emmert likewise said at the time that the punishment was "not to be just punitive, but to make sure the university establishes an athletic culture and daily mindset in which football will never again be placed ahead of education, nurturing and protecting young people."
"What we're trying to do with these sanctions isn't just penalize and punish the school," Emmert told ESPN in 2012, "but help them reshape that culture so that they never say the culture of hero worship or the culture of sport is ever going to overwhelm our values again so that we don't make the right choice at the right time."
The NCAA effectively retracted those statements Monday when it announced via Twitter that Penn State would receive postseason eligibility immediately, and receive all 85 of its football scholarships again starting next year due to "progress in ensuring athletics (department) functions with integrity." The postseason ban, instituted for the cover-up of rampant child rape, now lasted only two seasons, in which the Nittnany Lions went 17-9.
The Tribune editorial board wrote several editorials about placing, like Emmert said, education and the protection of young people ahead of an athletic culture, in particular at our own campus and former Big East rival Notre Dame's.  This emphasis from the editorial board's perspective stems in large part from a Department of Education investigation into Marquette in 2011. Then, the university was reviewed under the Clery Act to see how it handled allegations of sexual assault against student athletes. That situation stirred major headlines in the Chicago Tribune, but bad press and a public relations nightmare are not as bad as the prospect of our university mishandling sexual assault cases in the name of athletics.
"Marquette has publicly acknowledged mistakes made in dealing with reports of sexual assault involving student athletes on our campus," former Marquette spokeswomen Mary Pat Pfeil said then, echoing then-acting Athletic Director Mike Broeker who called the handling of the situation a "severe error in judgement."
Marquette's 2011 case is rarely brought up in the media anymore, and the university likely learned to avoid creating a culture conducive to similar incidents with student athletes. But the NCAA is sending an unfortunate message with the retraction Monday of a once-valuable message. Emmert's comments when distributing the sanctions showed a sincere interest in developing an environment where athletics never took precedence over doing the right thing, but in taking them back, the words are lost. The NCAA now appears to have only given the sanctions to deflect bad press, rather than from a concern in the atrocity that happened at Penn State. At this point, the NCAA would almost be better off having never distributed sanctions instead of saying "never mind."
The Nittany Lion football team, which is 2-0 and suddenly a contender in a weak Big Ten, is benefiting this week, but again, the sanctions were never meant for them. The sanctions were meant for a fan base and culture that valued football over doing the right thing. That is a culture that should not exist at Penn State, Marquette, Notre Dame or any other college campus.
But Monday, Penn State fans were celebrating in the streets, thrilled at the prospect of a bowl game and falling back in a time before their campus was in the spotlight for all the wrong reasons.
Leave a Comment