READER SUBMISSION: Break free from the bubble with social innovation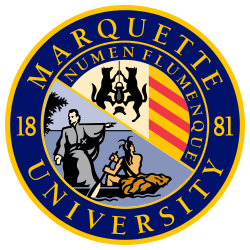 It's a fairly common thing to hear: We live in a bubble, the "Marquette Bubble." People live in it every day without giving it much thought. You can't really deny it – just look at the reactions given to anyone who says they live west of 20th Street or north of Highland Avenue.
As I've been told many times, Jesuit universities are founded in major urban areas for a reason. Education and poverty are on the minds of every Jesuit institution. Jesuit schools are purposely placed where poverty can be found so they can work to address and, hopefully, help alleviate it.
Marquette fits that description very well. We do the education thing very well and we try very hard at that. We pride ourselves on our Jesuit education because it is so deeply rooted in phrases like "men and women for others" and "cura personalis." We don't just teach simple knowledge, we teach life lessons and valuable skills that make us better people. Many would agree that we do a great job with our Jesuit education.
But what about the poverty? Do we think we actively engage the community we are a part of, or simply exist on this plot of land, ignoring our neighbors? If Marquette was established here under the principles of confronting poverty, not hiding from it behind blue Fords with yellow font, then why are we surrounded by so much? For more than 130 years, the Society of Jesus has staked claim to this land. Is our community better because of our presence?
I say no. In fact, some may say the poverty here is as bad as it has ever been.
Look around the area, see what you find. There are no immediate healthy food options. There are neighborhoods we warn people about. If we are here to address poverty, why isn't it better? Why isn't our community improving through the work of our students and staff? Why hasn't Marquette made itself relevant in this neighborhood? Shouldn't a Jesuit school make an area better off, and try to expand to an area in need of more attention? Has Marquette been completely ineffective for all this time?
I can't answer that. But I can call out everyone claiming to be associated with this university to do more.
Go out and truly engage your community. Find the root causes and fix them together. Understand the needs of the community so an answer can be reached. Be innovative in your attempt to sustainably solve problems so they don't come back. Look deeper. Marquette could be the world's best functioning social enterprise if we stay true to our founding principles.
I challenge you to seek more. I challenge you to ask why in a boundless manner until you understand the issue well enough to fix root causes. Stop with the Band-Aids. Be socially innovative, and please do go forth and set the world on fire.
– Andrew Terenzio, president of ChangeMakersMU and junior in the College of Business Administration

Leave a Comment