Dayton's turnovers, Hiedeman's career-high help Marquette rout Dayton in first round of NCAA Tournament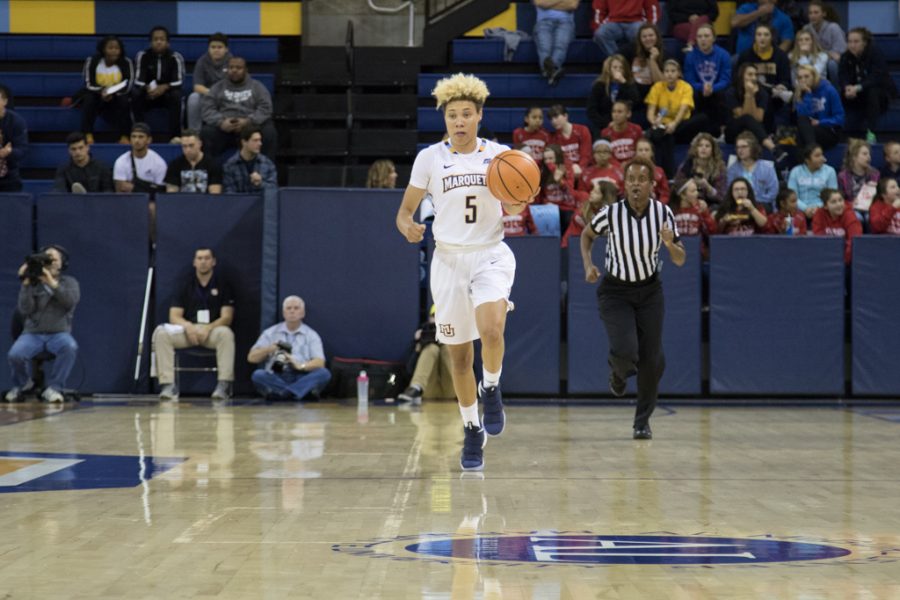 The Marquette Golden Eagles started their first-round NCAA Tournament matchup with Dayton in the same uninspired way last year's loss to Quinnipiac began. Hardly anything was falling. The team missed nine of its first 10 field goals. It looked like Marquette's first NCAA Tournament win since 2011 would have to wait.
"We were anxious," junior guard Allazia Blockton said. "We had a lot of good looks, and we were just missing them, over-thinking them."
Junior guard Natisha Hiedeman had different intentions.
"It's March. If you lose, you go home," Hiedeman said. "I'm not trying to lose. So I just took it into my hands for a hot second."
Hiedeman scored the team's first 15 points on her way to breaking a program record for points in an NCAA Tournament game with 32. She also broke the program record for 3-pointers in an NCAA Tournament game with eight to guide Marquette to an 84-65 victory.
"I just had open shots," Hiedeman said. "Coach was kind of giving me the green light. If you have open shots, take them. And that's pretty much for anybody. So I was just taking the shots that I saw."
No other Golden Eagle scored until the 1:33 mark of the first quarter, when junior Erika Davenport grabbed an offensive rebound and got an easy putback layup.
"We love to go inside-out," Davenport said. "(Hiedeman) was on fire tonight. It opened up a lot of things for me. She found me on a lot of plays."
Hiedeman and Davenport combined to score more points in the first half (32) than the entire Dayton team (31).
"We ran every defense that we could possibly run today," Dayton head coach Shauna Green said. "We haven't zoned. We zoned. We haven't pressed … Everything that we have in our arsenal. We threw out there."
As Hiedeman and Davenport fueled Marquette's offense, the Golden Eagle defense jumped passing lanes at will, forcing 16 first-half turnovers and 19 total.
"We knew they were all versatile; they all can shoot," Blockton said. "So a big part of our defense was denying, and I think we did a really good job of having our hands in the passing lane."
Those giveaways led to 22 Marquette points.
"Any time we can get out in transition and we can flow into our offense versus walk the ball up, that's where our team is most comfortable," Marquette head coach Carolyn Kieger said. "When we can get our hands on loose balls or we can get tips and deflections and we're running at a full head of steam, that's when I think we're playing off each other the best."
Meanwhile, Marquette only turned the ball over four times in the first half, finishing the game with 10 turnovers.
Both teams played at a fast pace during the season and today was no exception. There were 151 combined possessions that lasted 15.9 seconds long on average.
The rapid tempo especially hurt the Flyers, who essentially had no backup point guard.
"You saw our limit of our players today hurt us," Green said. "I couldn't even get Jenna (Burdette) a minute here or there (on the bench) the last couple weeks and games just because of that."
Dayton's offense adapted to the blazing tempo later in the game, but it was moot point. Marquette maintained a double-digit lead throughout the entire second half.
Three Dayton players scored in double figures, with point guard Jenna Burdette leading the team with 19 points. Dayton senior JaVonna Layfield recorded her fifth straight double-double with 11 points and 13 points.
Marquette will not have much time to dwell on its first NCAA Tournament win since 2011. Top-seeded Louisville awaits Sunday at a time to be determined. The Cardinals' two regular-season losses were to teams currently ranked first and 11th in the AP Top 25.
"When you're the No. 1 seed, you do a lot of things well," Kieger said. "They're big. We've got to pack the paint and make sure we can rebound with them."