Women's basketball clinches share of regular season title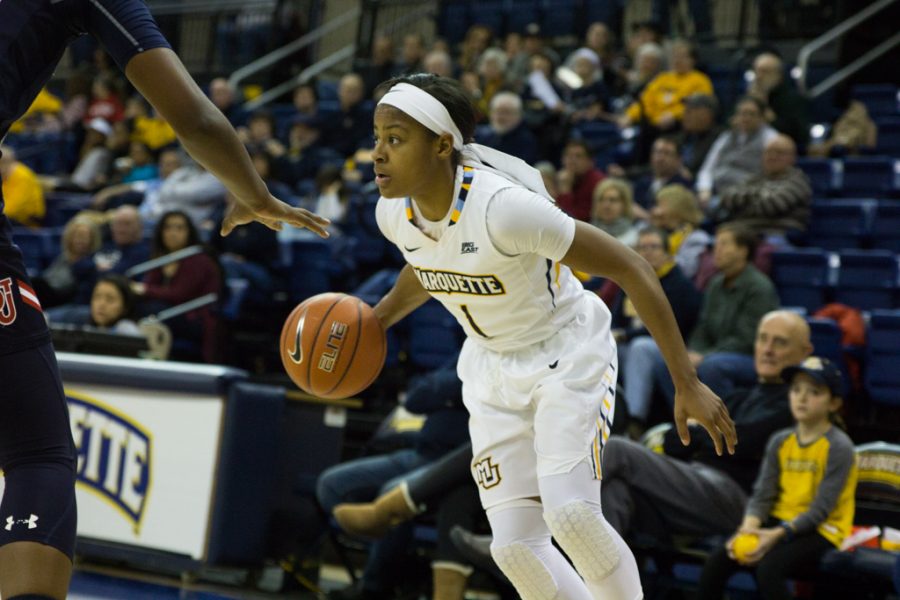 For the first time in program history, Marquette women's basketball is on top of the BIG EAST at the end of the regular season.
The Golden Eagles (21-8, 15-3 BIG EAST) aren't on the pinnacle of the conference alone, sharing the regular season crown with the DePaul Blue Demons. However, Marquette's 76-57 smothering of St. John's (16-13, 9-9 BIG EAST) was still a landmark moment in Marquette head coach Carolyn Kieger's tenure.
"I'm just so proud of my team," Kieger told BIG EAST Digital Network's Faith Woodard. "For us to have some ups and downs and be able to have the maturity and growth and mental toughness to get this done; it's for (the players) and they deserve all the credit for it."
Marquette beat the Red Storm with disciplined defense, something that eluded the Golden Eagles early this season. St. John's missed its first four shots of the game, which was a prelude to a 38.6 percent shooting performance. Marquette has held opponents to sub-40 percent shooting in three of its last four games.
Astute switching and prompt help defense prevented the Red Storm from ever settling into a rhythm offensively. St. John's did not make consecutive baskets until the fourth quarter, long after the result had been decided.
A decisive Marquette run came with 5:46 left in the first quarter with the score tied at six. Junior Natisha Hiedeman's layup kick-started a 10-2 Golden Eagle spree that took up the next two-and-a-half minutes. The game never got back within one possession.
Offensively, Marquette was a picture of balance. Four Golden Eagles scored in double figures, led by junior Allazia Blockton with 19 points. It's the 10th straight game Blockton has scored at least 10 points.
Other Marquette contributors included guard Amani Wilborn (18 points), forward Erika Davenport (12 points) and guard Danielle King (11 points). Davenport also grabbed 11 rebounds for her ninth double-double of the season.
"On any given night, anyone on our team can score 20 points," Kieger said. "The fact that they're so unselfish and they celebrate an assist more than they do a bucket, that's what you want as a coach."
After a raucous locker room celebration, the Golden Eagles plan on getting back to work with the BIG EAST Tournament ahead of them. Marquette will play either Butler or Providence next Sunday at noon in the quarterfinal round of the tournament in Chicago.
"We need big plays, we need tough plays and tonight we proved that we can do it," Kieger said.