'Closed Mondays': First Marquette film to play at Milwaukee Short Film Festival
"Closed Mondays" will be the first short film produced by Marquette students to play at the Milwaukee Short Film Festival Sept. 10.
The film was created by Marquette alumni Henry Willette, Peter Basch, Reese Heinzinger, Jack Glowinski and Mike Cianciolo for their senior capstone class last fall.
The festival receives about 500 submissions, including many international films. About 50 are selected, according to festival director Ross Bigley.
Leading actor Matt Nichols said it was a great accomplishment that the students made it into the festival.
"The fact (Willette) got in the Milwaukee Short Film Festival as a student speaks volumes," Nichols said. "It's very well-respected and well-known."
Nichols said he is "grateful and humbled" to be part of the production. He added that he had not encountered a script like "Closed Mondays" before.
"When I first read that script I was really drawn to it," Nichols said. "It's a unique story."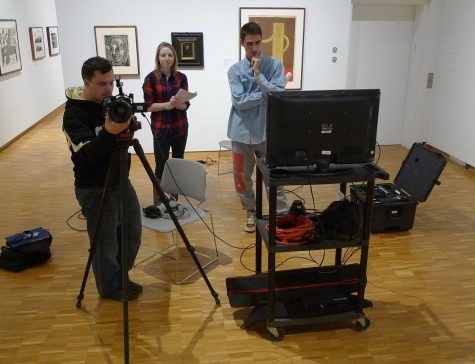 The film takes place in the Haggerty Museum of Art. A little girl befriends a lonely guard, played by Nichols, and they bond over their shared love of art. The two save the museum from its impending closing.
Willette wrote and directed the film. About twenty students pitched their script to the class and voted on which they liked the best. Willette's script was one of five chosen.
According to Bigley, the strong female leading role was one of the reasons "Closed Mondays" was a contender for the film festival.
This year the Milwaukee Short Film Festival saw many submissions from young, female filmmakers. Bigley said many of the films were made by women or had a female protagonist.
Bigley said he was impressed with the submission from Willette and his crew.
"I think 'Closed Mondays' is one of our strongest films," Bigley said. "It was solidly directed and beautifully shot."
Willette said the team strove to make the film as professional as possible. To achieve this goal, the group had a casting call for professional actors and carefully chose their shooting location.
"We didn't want it to look like a student film," Willette said. "We shot in the Haggerty to give the film a high production value."
Assistant professor Joe Brown, who taught the class, said he wanted the project to emulate an actual Hollywood movie, with each student in a specific role.
"At the student level you tend to want to do it all, it's your baby, but in an actual Hollywood movie the roles are very defined," Brown said.
Although Willette had plenty of camera experience, he had to step back from that work and take on the director's position.
Willette "was one of the top creative people in digital media in the last few years," Brown said.  "He was good with the camera, storytelling, editing and everything."
Willette said it was initially difficult to step away from camera work, but he had confidence in his team.
"I just wanted to try new things," Willette said.  "I always shot my own stuff, but as a director I trusted my crew."
There will be a series of awards presented at the festival. The judges have already viewed and scored the films. Bigley said he could not disclose the results, but added that "Closed Mondays" did "fairly well."
Leave a Comment