Tradition welcomes class of 2020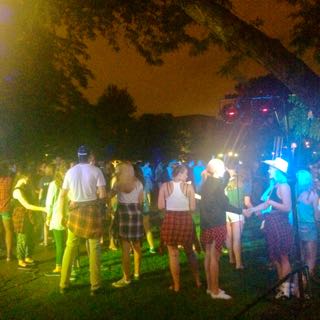 Marquette's class of 2020 started their fall semester off with a dance. In addition to activities planned throughout the day such as move-in, Convocation and tours, the Freshman Mash-Up allowed students to kick back, meet new people, dance and enjoy live music and free pizza. Marquette's Central Mall lit up with blue and gold lights on August 24, welcoming all freshmen to the kickoff.
"It was exciting to see everyone having a good time," Christian Allen, a freshman in the College of Arts & Sciences who attended the Mash-Up, said.
The Freshmen Mash-Up is a 30-year-old tradition, according to the university Marquette Nation website, that introduces new students to campus to have fun and meet new people through square dancing, food and a DJ party.
"I expected it to be lame since it was school-run, but it wasn't like that at all," Aliya Hancock, a freshman in the College of Arts & Sciences, said. "It was like any other party, but without the alcohol or grinding."
Freshmen showed up to check out the event despite rainfall throughout the night. Students started to arrive after the many Snapchat posts of this year's DJ and contemporary violinist Daniel D.'s performance.
Most people gathered in a crowd, dancing and reciting the lyrics to the songs as Danny D. played the violin. He covered hits such as "Jumpman" by Drake and "Trap Queen" by Fetty Wap. Many were amazed at his skills.
"I stayed open-minded and I joined a group to learn the steps of square dancing. I participated and came to enjoy it more than I thought," Kaytriauna Farr, a freshman in the College of Communication, said.
The Freshman Mash-Up was a memorable night for many students. Although not many people reported finding love, as Marquette legend states, many said they met great people.
"I met some pretty nice people, and I'm glad to say I met some potential life-long friends," Farr said. "It was all worthwhile."
Amia Bridgeford, a freshman in the College of Arts & Sciences, who did not attend the Mash-Up, said she regretted not participating. "I heard about how fun it was and I know it's a one-time experience, so I probably should've gone," Bridgeford said.
Most students who attended said they would encourage the class of 2021 freshmen to participate.
"It's the first time you get to meet up with all the other freshmen in an informal event," Hancock said.
The atmosphere throughout the event was inclusive and made many people feel more confident in establishing and solidifying new friend groups. For those entering a new environment outside of their own, the Freshman Mash-Up invited them to a new opportunity to create experiences.
"I believe it was a success because those who attended came to have a good time and we are welcoming to others in order to ensure that the time was well spent," Farr said.
This 30-year tradition proved to have been another successful experience shared by incoming freshmen attending Marquette. The Mash-Up will be one of the first memories that Marquette students will live to tell throughout their college careers as well as another addition to Marquette's legacy.
Leave a Comment