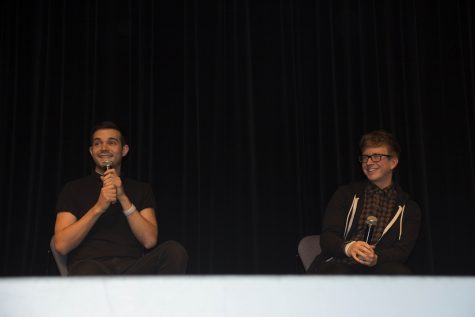 Tyler Oakley, a LGBT activist, author and YouTuber boasting over eight million subscribers, spoke to a full Varsity Theatre last week about his life and how Marquette students can create their own YouTube content.
Oakley was the last speaker of the academic year's speaker series put together by Marquette Student Government. He was joined onstage by his friend and YouTuber Korey Kuhl and the two bantered throughout while interacting with the audience.
"If you want to be a YouTuber, you have to make your first video," Oakley said. "I think there's too many expectations of having a certain reach or having a certain amount of subscribers. But once you start, you're doing it."
Oakley engaged the audience by answering the questions they placed in a box before the start of the show. He also signed copies of his autobiography, "Binge," prior to the show.
"If you want (to be a YouTuber) to happen, you have to start," Oakley said. "It took me my first five years (of making videos on YouTube) to reach a million followers. It won't happen from the get go."
Oakley said he was inspired to start making videos after watching YouTuber William Sledd, who made videos commenting about fashion and life in general.
"I had a camera on my computer," he said. "I could maybe possibly do something and (Sledd) was the inspiration for me to start. Just because I saw somebody else doing it that was funny and having fun."
Oakley discussed the time he worked at McDonald's, saying it was the best job he ever had because they gave him free food. He joked that he would go back if he could.
Oakley and Kuhl are a team on "The Amazing Race," a competition reality show on CBS in which teams complete challenges around the world. 
"We were in a poor provincial town in France (for an 'Amazing Race' challenge)," Oakley said. "And I felt like Belle (from 'Beauty and Beast')."
Oakley also entertained the crowd by rapping Nicki Minaj's verse from "Monster" by Kanye West. Minaj once retweeted a video of him rapping to her music and he said it changed his life.
Some of the event's attendees were younger than undergraduate college students so college advice was brought up.
"The first week is really important, and it's super easy to hide in your room," Oakley said. "There's so many activities you can do in the first week, and this is coming from someone who was an RA for three years. There are so many people that are uncomfortable and awkward just like you."