MU junior earns silver at World Junior Curling Championships
Howell wins silver, sets eyes on 2018 Winter Olympics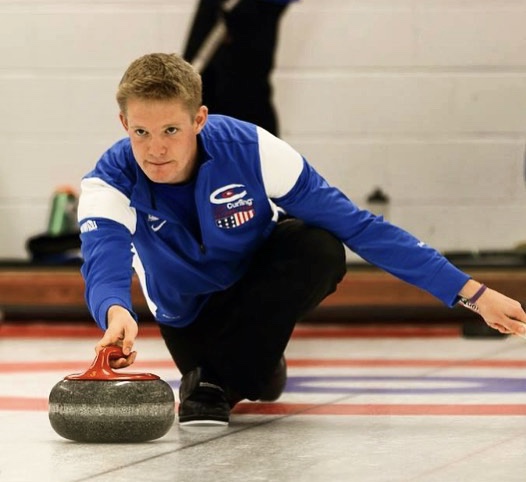 Marquette junior Tom Howell traveled to Taarnby, Denmark with Team USA last month for the 2016 World Junior Curling Championships. Howell and the U.S. team won the silver medal, going 8-1 in pool play and beating Switzerland in the semi-finals before falling to Scotland in the gold medal game.
It was Howell's third trip to the World Junior Curling Championships with the U.S., where the team finished 5th in 2012 and 7th in 2013. Howell believes the experience of those first two championship competitions helped him and the team finally take home a medal.
"(In 2012) I was younger and playing with people who were 20 and 21, so I was the young gun just kind of following around the older guys," Howell said. "I didn't really know what was going on because it's just a bigger stage. So now, having that experience playing in my third one, I was, you could say, experienced – a veteran kind of. (The experience) helps you settle down and just play your game."
Ryan Johnston, a senior and former president of Marquette Club Curling, has known Howell since he first came to Marquette. Howell's schedule makes it difficult for him to make time for Marquette's team, but Johnston and the club still support Howell whenever he competes.
"Tom curling at Worlds was simply amazing," Johnston said. "When curling at Junior Worlds, he was competing against future Olympians, which demonstrates the magnitude of the competition. I know thousands of people were watching him compete and cheering for him."
The 2016 Junior World Championships was the last competition for Howell's season and the last for his career on the junior circuit. Now 21, Howell, can attempt to earn a spot on the U.S. National Team and tend to compete in the 2018 Winter Olympics in PyeongChang, South Korea.
"What happens is you can apply to be part of the national U.S. men's team, so now I have to wait and go through a series of interviews and combine type things, in the gym and on the ice," Howell said. "Then you get evaluated, and hopefully they pick you."
As the vice skip, Howell's job is to deliver the 5th and 6th stones to set up the final shots. The application process will not start for another month. In the meantime, Howell says he'll be focusing on school and enjoying the short break before the beginning of his new chapter in curling.
Johnston believes it's only a matter of time before Howell is competing in the Winter Olympics.
"(Howell) is everything a curler aspires to be," Johnston said. "He embodies the whole spirit of curling. I believe Tom will be in the Olympics either this or the following cycle. His team advancing to the gold medal round at Worlds demonstrates their ability to compete at a high level, and I know they will perform well in that setting."
The difficulty for Howell will be balancing his curling career with his education and post-graduate career.
"It's tough because if you're playing an Olympic sport, you're probably not making a million bucks," Howell said. "It's a trick to see how far we can take the curling and continue a career path, because in some instances you have to pick one or the other … Since I've been doing it for so long, my goal is to be in the Olympics, and that's what I'm working for right now."