Forum provides discussion of Near West Side solutions
The Near West Side Partners hosted a forum Monday night to discuss the segregation and poverty that exists in neighborhoods surrounding Marquette and how the university can address it.
NWS works to empower the area between 1-43, Highway 41, I-94, Vliet Street and Highland Boulevard by fighting poverty and reducing crime. The forum "Marquette, Race and the Near West Side: Past, Present and Future" included a panel of Marquette professors and historian Joe Trotter.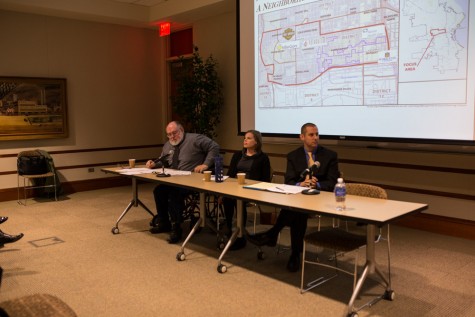 Amber Wichowsky, assistant political science professor and a panelist, discussed the state of the Near West Side neighborhood and a project her Democracy Lab will implement.
"At Democracy Lab, what we hope to do is to connect innovative social science research to urban public policy in a way that gives a voice and empowers neighborhoods," Wichowsky said. "We do this by bringing together faculty, students and local stakeholders to conduct studies and evaluations on how we can increase civic engagement."
The forum stressed increased community involvement with Marquette students.
"Milwaukee is a hyper-segregated city, but the Near West Side is an anomaly," said Patrick Kennelly, director of the Center for Peacemaking and another panelist. "The population very closely reflects the racial break-up of the city being 65 percent minorities. Forty thousand people who live on the Near West Side are students."
Kennelly said he has been living on the Near West Side for 10 years and cares about his community's conditions.
Tom Jablonsky, a history professor emeritus and panel member, discussed Marquette's historical role in its location and the community.
"This has been a fragmented, evolving area that Marquette has lived in," Jablonsky said. "Marquette had no residential life. Marquette had even less engagement with the community."
Trotter discussed the history of African Americans and race in Milwaukee.
"Scholars for the last 30 years have focused on the destructive impact on what many scholars call the urban crisis," Trotter said. "These studies underscore industrial decline, depopulation, and the emergence of what some people are calling a new Jim Crow in the emerging post-industrial city."
Marquette has been involved with NWS to help revitalize the area. In a 2015 Marquette Wire article, a panel discussed possible rejuvenation of the Near West Side area.
"Attention needs to be given to how racism negatively impacts community," Kennelly said.
Leave a Comment