Prpa could be next Marquette soccer star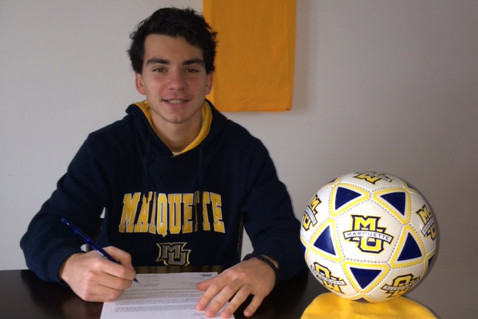 When Luka Prpa arrives on campus in August, he'll come in as one of the highest rated recruits men's soccer has ever landed. TopDrawerSoccer has him ranked as the 36th best player in his class.
"Prpa is a brilliant soccer player," TopDrawerSoccer.com reporter J.R. Eskilson said in an email. "He has the vision and the technique to excel at the professional level."
Prpa (pronounced per-pa), who Marquette head coach Louis Bennett has known since Prpa was about seven years old, is a center midfielder with Chicago Magic PSG Soccer Club. He also played with the U.S. U-17 National Team and spent two weeks training with with Swansea City A.F.C.'s U-18 squad last May.
"In more recent years, he's the most decorated player in this area without a doubt," Bennett said. "There's no one else who's spent this much time in U.S. soccer residency."
His old club, North Shore United, had a partnership with Swansea, giving Prpa the opportunity to impress them three years ago. The club told him if he wanted to come back and train, he could.
"I had some time off from residency when we were on break, and we decided to run with it," Prpa said. "It's a great experience, how differently they played. It's a lot quicker and faster. It gets you used to the European game."
You won't find many differences in the scouting report between Prpa and Marquette's top midfielder, Louis Bennett II. They play the same position, are both left-footed and are very successful passers in addition to their finishing ability.
"He is extremely comfortable with the ball and can play under pressure," Eskilson said. "He slices apart defenses with his passing ability and understanding of angles to penetrate the defense with one move. He has a great engine and covers a ton of ground throughout the game."
Prpa said he is excited to learn from Bennett II, who he has played futsal with a handful of times. Based on those outings, Bennett may want to get creative and have both players on the pitch at the same time.
"I thought we had great chemistry," Prpa said. "We looked for each other. We're a nice combination."
Despite his pro ceiling, Prpa said he has not yet received any professional offers. Bennett said Prpa has gotten looks from international scouts, but Prpa decided that the college route is the one that fits him best. He chose a different path than his cousin Andrija Novakovich, who chose to forego his commitment to Marquette and signed a contract with English Football League Championship club Reading F.C.
"He believes in the education system, and until there's a firm, 'This is how many years and this is how often,' there's too big a risk," Bennett said of Prpa. "Because of the situation in the states where you can get your degree, unless it's a fantastic offer, why would you (go)?"
Although Bennett said he couldn't promise any player immediate playing time, he said Prpa has all the tools to fit in with the existing lineup.
"What we need and what we haven't had, he's going to have," Bennett said. "He'll compliment our other players who are experienced … We've only got two seniors who have played all the time, John Pothast and Louis (Bennett II). The rest have played in little bits. We need players that have maturity without having played a lot of game. He's for the now, as well as the future."
Leave a Comment