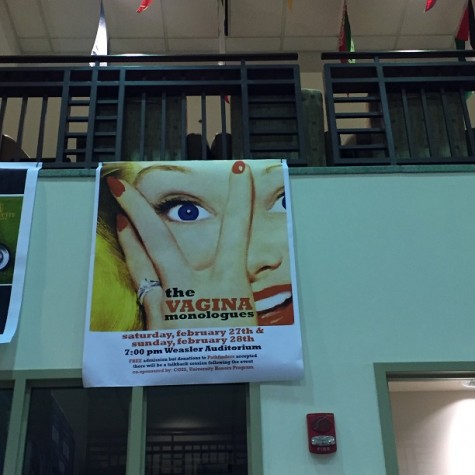 Story updated Feb. 24 at 7:39 p.m. The show's original promotional display is still gone and a new Vagina Monologues poster is hanging in the Alumni Memorial Union. 
Story updated Feb. 18, 2016 at 1:50 p.m. The Office of Student Development emailed the Empowerment club to say it reviewed "The Vagina Monologues" publicity that was taken down. Title IX Coordinator Christine Harris Taylor is also reviewing the publicity after OSD received complaints about it. OSD requested that none of the show's publicity be displayed online or on campus until everything is resolved. 
After some disagreement over advertising, the Marquette Empowerment club will present "The Vagina Monologues," sponsored by the English Department, Center for Gender and Sexuality Studies and the Honors Program, for the eighth year.
The show, a globally performed play originally written by Eve Ensler, features 12-15 single and multiple-performer acts about feminist issues including love, sex, rape, childbirth, gender identity, menstruation and women's anatomy.
Empowerment's promotional efforts for the show include posters with a picture of the middle half of a grapefruit – which resembles a vagina – and a showcase in the Alumni Memorial Union that included the posters, bras, underwear, tampons, feminine pads, birth control pills, condoms and a vibrator.
Esther Aviles, Empowerment president and sophomore in the College of Arts & Sciences, said the Office of Student Development took the AMU showcase down. OSD staff told Aviles that the display was against Catholic values because of the birth control pills and condoms.
OSD required that all of the show's promotion materials get approval from its co-sponsors and recommended changing the grapefruit image.
Aviles said the group is trying to get re-approval from OSD to put the other parts of the display back up. The group will then try to get approval from the Office of Residence Life to hang the posters in residence halls.
"If we can't talk about sex, how do we talk about sexual assault? How do we talk about women's health? How do we talk about women at all?" Aviles said.
Aviles said gaining support for the show is a balancing act between pleasing the student body, that demands open discussion, and pleasing the university's Jesuit, conservative constituents who provide funding.
Admission to the shows, on Feb. 27 and 28, is free but Aviles said donations are encouraged. All proceeds will benefit Pathfinders Milwaukee Inc., a local nonprofit supporting homeless youth.
"We think it's important to have ("The Vagina Monologues") here on campus because we really don't have much going on that, kind of graphically, but also hilariously embraces the female experience," Aviles said.
For the past two years, performances included monologues written by Marquette students.
"By discussing topics that are important to being a woman in a fun and comical environment, we are bringing awareness and a new level of comfort to the female experience," said Crystal Audi, a senior in the College of Arts & Sciences and one of the performers.
Audi will perform one of Ensler's original pieces, "My Short Skirt," a monologue that focuses on victim blaming and society's expectations of women's appearances.
"It's impossible to fulfill society's contradictory expectations of us," Audi said. "This monologue is about reclaiming your body and being empowered in your sexuality and independence."
Empowerment, the gender equality club founded on campus 10 years ago, historically faces administrative conflicts surrounding "The Vagina Monologues". After years of disagreement, Marquette allowed the performance to exist only as an academic event sponsored by an academic department.
"Any production of "The Vagina Monologues" on campus must be an academic program, with appropriate discussion allowing multiple viewpoints to be heard, including the relevance of Catholic teaching to the issues raised," University Spokesman Brian Dorrington said in an email.
The English, Psychology, Philosophy and Social and Cultural Sciences departments previously sponsored Vagina Monologues performances.