Students stepping out in style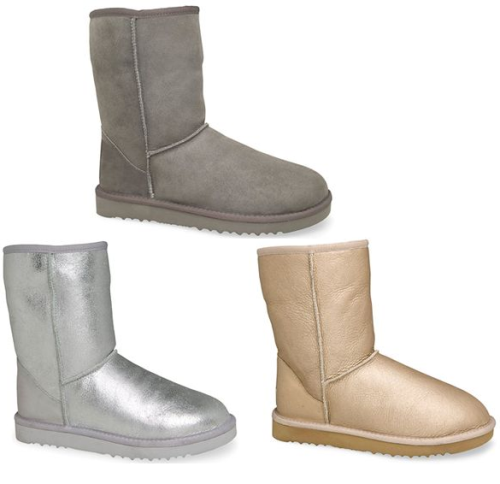 Trends within generations have existed forever. In the 80's there was big hair and parachute pants. The 90's featured baggy pants and track suits. A college campus is a premier location to acclimate oneself with the newest fashion trends. The countless trends stretch from hairstyles and clothing to technology. One of the biggest fashion trends on campus is footwear. Throughout the campus there are tons of different shoes of all shapes, sizes, colors and brands.
Perhaps the most common type of shoes seen at this time of the year are boots. As of recent, popular brands of boots include Timberland, L.L. Bean, Dr. Martens, Kenneth Cole and UGG. In particular, women tend to wear knee-high boots from brands such as Sam Edelman and Hunter.
Matthew Douglas, a history teaching assistant, finds humor in this sight because he sees the boots up to their shins "like a Han Solo outfit." But this style is growing increasingly popular throughout the campus.
Athletic shoes are also very common to find in students' closets. Bobby Felder, 21, works at the Foot Locker in The Shops of Grand Avenue. Foot Locker meets almost all footwear needs with products such as athletic sneakers and winter boots.
In regards to recent trends of sneakers, Felder said that classics are coming back. Classic Pumas and Adidas sneakers are starting to be seen more. The sudden rebirth of these classics are influenced by celebrities and athletes.
"Athletes and celebrities such as Kanye West, LeBron James, and Spike Lee help keep the sneaker industry booming," Felder said.
People all over the world will go out and buy these athletes and celebrities' signature shoes. Of course, Michael Jordan's brand has been and will continue to be a dominant source of revenue to the sneaker industry. Felder said that on Saturday, Feb. 13, Jordan brand is releasing a retro version of the Air Jordan IV Cement colorway. Even though Michael Jordan hasn't played in the NBA game in 13 years, his Air Jordan's are still a common sight on Marquette grounds.
UGG boots are seen daily on campus, primarily with women. However, as of recent, men's UGG slippers have revolutionized the fashion industry. This type of shoe mixes the comfy feel of warm slippers with the durability of boots.
"I like my feet warm and comfy," said Gus Austin, a freshman in the College of Communication. "Also, they are quite fashionable."
There is no doubt that UGG's have been becoming more popular.
"UGG's are high-sellers depending on the season," Felder said.
Not only is the quality of the shoes important, so is the quantity. The amount of shoes that college students bring to school keeps growing.
Andrew Jones, a freshman in the College of Business Administration, brought eight pairs of shoes with him on move in day, while Anna Story, a freshman in the College of Communication, counted 25 pairs in her closet. They said they believed more shoes were necessary in  order to have more options for getting dressed in the morning.
"Here at Marquette, you get a variety of shoes, both men and women, because there's so much diversity and people from all over," Jones said.
Leave a Comment