Despite approaching his 380th birthday this spring, Father Marquette remains current through his Snapchat, which is run by the Office of Marketing and Communication.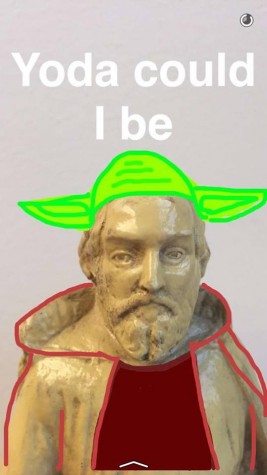 Sarah Eslyn, the social media and communications coordinator at the College of Business Administration, said the Father Marquette Snapchat is a team effort involving the comedic style of staff and student social media interns.
There are two Father Marquette figures OMC uses for the snaps – a life-size cutout and a smaller statue. While the life-size cutout sometimes appears on the Snapchat, the office tries to remain consistent by mainly using the smaller statue.
"We have to be authentic with our humor when Father Marquette is Snapchatting," Eslyn said in an email. "If we try too hard, the story will not connect with students."
In an effort to remain authentic, there is little strategy to construct the Snapchats.
"(The process) is more just like what we feel like doing that day," said Rose Littlefair, a senior in the College of Communication and a social media intern."We run around with him to various events around campus and kind of integrate him into that."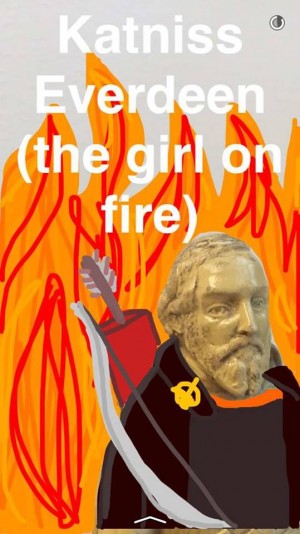 Dan Barrett, a junior in the College of Communication and a former social media intern, said making content was a bit like going on adventures with Father Marquette.
Some of Eslyn's favorite moments have been when Father Marquette relates to common student frustrations, such as studying, sleep deprivation and the weather.
The small statue has been through hardship during its time on Snapchat.
"(Previous social media interns) lost the statue at graduation, so this is another one," Littlefair said. "The previous statue before that had the head fall off."
Despite Father Marquette's struggles, his Snapchat received primarily positive feedback from both current Marquette students and alumni.
"Whenever we got feedback it was like, 'Hey, you guys are doing a good job, it's really funny. We want more of this'" Barrett said. "Really never negative."
Kennedy Perkins, a freshman in the College of Communication, heard about the Father Marquette Snapchat from the university's home page and now follows the account.
"I think it's funny and creative," Perkins said.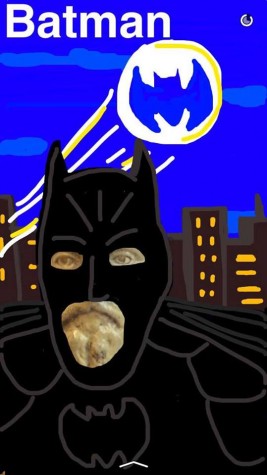 There are some, however, who are still hesitant about whether to follow the account or not.
"I begged all my friends to follow the Father Marquette Snapchat," Littlefair said. "(But) it was really hard to get my friends to follow (it,) just because my friends were just like, 'Ah, I don't want to follow him, that's stupid.'"
Kennedy Furnace, a freshman in the College of Arts & Sciences, said Father Marquette is important on campus, but she has not looked him up on Snapchat.
"I haven't really felt the urge to, and I probably won't," she said.
But this has not deterred Father Marquette from going on his next adventure.
The exact amount of followers for the Father Marquette Snapchat account is unknown, although it is estimated to be around 1,500 to 2,000 people.