Former Cubs player, coach pursuing MU Law degree
Casey Kopitzke grew up as a personal catcher to his older brother Chad. From their bullpen sessions in the backyard of their home in De Pere, Casey developed his catching acumen with each pitch that Chad rifled into his mitt. Casey had a knack for precision – mentoring his brother to make the best pitch for a given situation and framing it perfectly in the strike zone.
It was that perfectionist mentality that got Kopitzke to the professional level. He was first an All-American catcher at University of Wisconsin-Oshkosh, helping the Titans reach the NCAA Division III World Series his junior year. In 1999, the Chicago Cubs drafted Kopitzke in the 27th round of the Major League Baseball Amateur Draft. He spent the next 14 years in the Cubs organization – eight as player and six as a coach.
It is unfair, however, to define Kopitzke, 37, solely by his on-the-field accomplishments. His life has been a story of overcoming challenges and leaving unforgettable impressions on those that have had the pleasure of working with him.
"I coached for a long time, and I can honestly tell you that (Kopitzke) is the finest human being that I have ever coached," said former UW-Oshkosh head coach Tom Lechnir.
In 1999, Kopitzke hit .366 for Oshkosh and caught for a pitching staff that posted a 1.38 earned run average. He was the only catcher in Lechnir's 31-year coaching career that called every game for the pitching staff.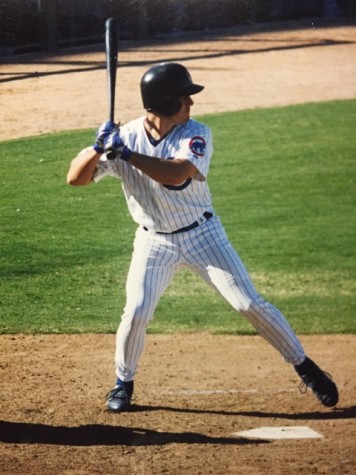 Kopitzke's offensive numbers in college never translated over to professional baseball, but he refused to let that hold him back. He made a career by playing stout defense behind the plate and impressing coaches with his intelligence and leadership. He became such a coveted player that at the end of each spring training, coaches would fight to get him on their roster.
In 2006, Kopitzke was offered a uniquely challenging position of becoming a player-coach for the latter half of the season for the Iowa Cubs, Chicago's Triple-A affiliate.
"It took some adjustment," Kopitzke said. "It was a little different because one day you go from hitting batting practice to the next day where you are taking a little batting practice, but you are also throwing batting practice (as a coach)."
Kopitzke embraced the challenge and became a mentor to a young catcher named Geovany Soto. Two years later, Soto would be named the 2008 National League Rookie of the Year for the Chicago Cubs.
Following the 2006 season, Kopitzke retired from playing the game and became a full-time catching instructor for the big league team. He spent the next two years in that position before getting a chance to manage his own team in 2009, the Boise Hawks, the Cubs Single-A short-season affiliate. But before he delved into his new career, Kopitzke was tossed the most devastating curveball life could throw him.
On April 21, 2009 Kopitzke's wife Erin, his high school sweetheart, gave birth to their first child, a girl named Catherine. However, the baby was born with respiratory problems and would have to stay in the hospital for the next two months.
Catherine lost her battle and died on June 13.
"You have so many different emotions and thoughts going on with your daughter fighting as hard as she can," Kopitzke said. "There is a sense of hopelessness that you can't step in and save her. It's in someone else's hands. That is a very hard feeling."
Baseball was all of a sudden the last thing on Kopitzke's mind. To get him through those dark days, he depended on his wife.
"Our relationship was the most important thing," Kopitzke said. "The way we were able to lean on each other and support each other when we needed it was the most important part of our healing process and moving forward."
Kopitzke resiliently returned to his team in Boise just two weeks after Catherine's death.
"I think whenever there is a tragedy like that there is a point where you start to move forward," Kopitzke said. "For us, getting back into baseball helped us move forward with our lives and progress."
After the season, he was promoted to manage the Single-A Peoria Chiefs who were then affiliated with the Chicago club.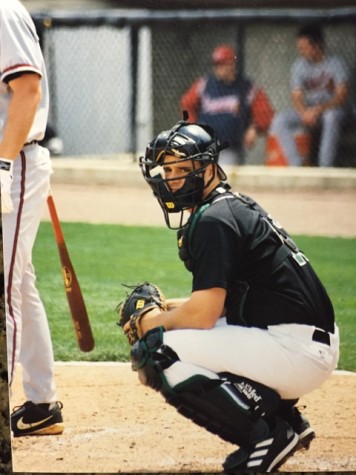 Players began to notice Koptizke taking law textbooks on road trips by 2012. After three seasons with the Chiefs, including time managing eventual major leaguers Jorge Soler, Javier Baez and Matt Szczur, Kopitzke decided to put down the manager's notebook and pick up the law books full time.
"When he told us he was retiring to go to law school, I can't say that surprised me because you knew there was more to Casey than baseball," said Nathan Baliva, a Marquette alumnus and Chiefs play-by-play announcer.
Kopitzke enrolled at Marquette's Law School in 2012. He knew that getting a law degree gave him reason to find stable employment and time to be a father. Erin had given birth to a boy named Sam two years earlier.
"You tip your hat to him," said Oneri Fleita, former Cubs vice president of player personnel. "He is a little further along in life to be able to walk away from the game and go to law school. That took courage. He looked himself in the mirror and said, 'There is something else I still want to do.' A lot of us say it and think it, but he did it."
After he graduates, Kopitzke hopes to find a job in sports in a front office or as an agent.
"He is so talented, and with his background, you like to think that any front office in Major League Baseball would want him," Fleita said.
As Kopitzke prepares to give his final class presentations and case briefs before receiving his degree at the end of the month, he keeps his baseball experiences in mind to stay level-headed.
"Playing in front of a crowd or playing on TV never really bothered me," Kopitzke said. "But standing in front of a class giving a presentation – that will rattle you."