Volleyball gets the BIG EAST fourth seed, will play Xavier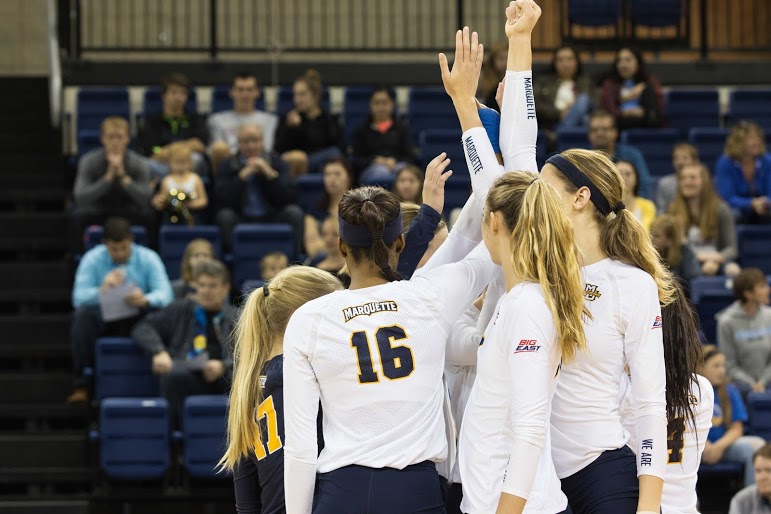 Andrew Goldstein, andrew.goldstein@mu.edu
November 23, 2015
The Marquette Golden Eagles volleyball team is officially entering the BIG EAST tournament as a four-seed after splitting a pair of weekend matches. Marquette started the weekend with an authoritative sweep of the Butler Bulldogs in Indianapolis, but lost their final regular season match to the Xavier Musketeers in four sets.
"We need to get better at closing games," said Marquette head coach Ryan Theis.
Everything started out promisingly enough for Coach Theis' team against Butler. Marquette played perhaps their most efficient offensive game of the year, hitting .411 for the match and racking up 49 kills as opposed to Butler's 33. Freshman outside hitter Taylor Louis led the team with 18 kills and middle hitter Jenna Rosenthal added 11 kills of her own. In the end, Marquette prevailed 25-18, 25-14, 25-15 without a bit of suspense.
"I thought we played pretty well in the Butler match," Theis said. "We did a good job of executing on both sides of the ball."
Xavier proved to be a more formidable foe, challenging Marquette's back line and effectively hitting to all courts. Still, the Golden Eagles had the first set all but won when Xavier Abbey Bessler service error put Marquette up 24-19. Then Xavier reeled off five straight points to level the set at 24-24. After the two teams traded seven set points, the Musketeers finally put the set away 32-30.
Perhaps losing the hard-fought first set wore Marquette down, because the Golden Eagles only hit .119 in a 25-22 second frame loss. Marquette did manage to take the third set 25-19, but their quality of play quickly deteriorated and they lost the fourth set by the same score, 25-19.
Marquette finishes the regular season at 21-10 overall and 12-6 in the conference. Their next match will be against the conference-leading Creighton Blue Jays in the semifinals of the BIG EAST Tournament at 12:30 pm on Friday. Creighton has defeated Marquette twice already this year.