Muslim Student Association hosts vigil for Paris, Beirut, Bangladesh, Kenya attack victims
Sophia Boyd, Student Government & Politics Reporter
November 18, 2015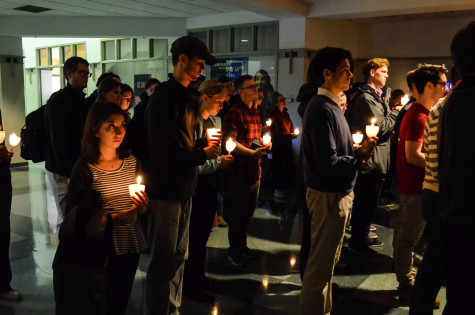 Ayah Ali, president of the Muslim Student Association and junior in the College of Business Administration, read a Koran verse to start a Tuesday candlelight prayer vigil for victims of recent terrorist attacks in Paris, Beirut, Bangladesh and Kenya.
Ali said the MSA, who hosted the vigil, knew they wanted to do something as soon they heard about the attacks.
"We're doing this not because we think we're responsible for anything but because we should come together as a community," she said. "It's us stepping forward and telling people where we stand in that we condemn any act of violence."
University President Michael Lovell, Campus Ministry members Gerry Fischer and Bernardo Avila-Borunda, the French Club and the Rev. Joseph Mueller prayed in French and English with around 100 attendees to reflect on the tragedy.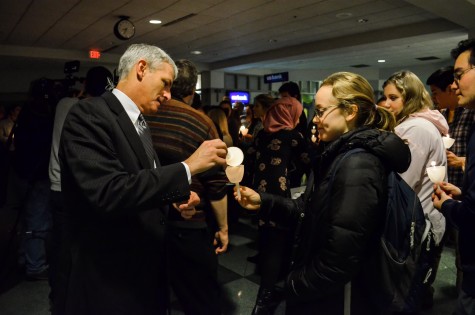 "We must have mercy for each other," Lovell said. "In this vigil organized by our students, we are accepting the invitation to speak and interact with one another and I thank each and all of you for participating in this conversation."
Hugo Givernaud, an exchange student from Paris, was one of six French club members that spoke at the vigil. Paris experienced multiple terrorist attacks from the Islamic State on Nov. 13.
"It just could have been me," Givernaud said. "(The Islamic State) wanted to kill joy and happiness."
Allison Driskill, a French Club member and senior in the College of Arts & Sciences, said the event was a call to action for some of the attendees.
"It's easy to see it on the news … but to actually come here through the rain and stand in solidarity with other people who feel the same way I think is a bigger step to make," Driskill said.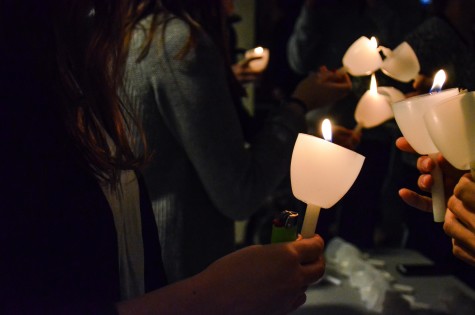 Julia Hilbert, a senior in the College of Nursing, said she came to event as a Catholic to support MSA and what she called an interfaith opportunity.
"I hope to see more people get involved with things like this, and I hope to see more opportunities for myself and other students to learn about other religions," Hilbert said.
Natalie Russell, a junior in the College of Arts & Sciences, said it was courageous of MSA to host this event when some are blaming the group's culture or religion for the attacks.
"It was something very symbolic to go into the core of the city, not even in the tourist parts, but the … living quarters of the actual Parisians and attack them directly," Russell said.