Two knitters spreading color on campus with yarn bombs
Two students are trying to knit happiness for the Marquette community.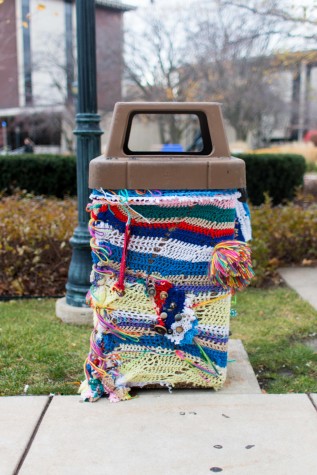 Parker Lawson, a freshman in the College of Education, and Olivia Menzia, a freshman in the College of Communication, are "yarn bombing" objects around campus. They describe yarn bombing as "grandma's graffiti" and said it's essentially knitting a sweater for random objects.
There are two yarn bombs on campus. The first is on a tree outside of Abbottsford Hall and the second is on a trash can outside Raynor Memorial Library.
Menzia said they did not plan for their yarn bombs to coincide with winter, it just worked out that way.
"All the color is kind of leaving campus," Menzia said about the leaves falling. "Obviously there are people not from this area who haven't experienced winter, so it's something that will bring color to campus."
Menzia and Lawson are neighbors in Abbottsford. They met early this semester and began creating different yarn bombs after fall break. Lawson said she learned how to knit at a young age and got the idea when she saw people yarn bombing around the city.
"It's something to make people smile," Lawson said. "You don't have to be a good knitter to yarn bomb, it's just kind of making little pieces and combining them together."
Brian Totten, a freshman in the College of Arts & Sciences, said he had never seen yarn bombs before. He expects the project to grow and, hopefully, gain recognition.
"It's an original and creative idea," Totten said. "I don't think it's something you find on every college campus."
Lawson and Menzia said they want to ensure every yarn bomb has a story to go with it. They attached a paper with a creative backstory to each one.
The tree yarn bomb's story is called "There's a First for Everything" because it was the pair's first piece of work. The trash can's story is called "Trash into Treasure," because the bomb was made by assembling scraps of already knitted pieces.
"I like to find prettiness in something you normally wouldn't consider pretty," Menzia said.
Lawson added it's important to share a story so more people can connect and understand their work.
"Instead of just putting yarn on a tree, we like to have some sort of meaning to it," Lawson said.
Katie Walker, a junior in the College of Health Sciences, said she enjoyed the piece when she first saw it but was confused about why it was there.
"When I first saw it, I thought it was random," Walker said. "But after I found out the story behind it, I appreciated it even more."
Menzia and Lawson said they have received positive feedback on their project. They said someone walked up and thanking them for their work while they were putting it up.
"It's those little things that hit the heart," Menzia said.
The two plan on putting yarn bombs all around campus. Their next project involves the Pere Marquette statue.
"We really want to put scarves and mittens on the Pere Marquette statue on the first real snowfall," Lawson said.
Menzia said she enjoys working on the project and is looking forward to what is in store.
"We just want to make people happy in small ways," she said. "It makes your walk to class a little more enjoyable."