Volleyball keeps pace in BIG EAST after weekend split
Senior Lehman notched 10 kills in home finale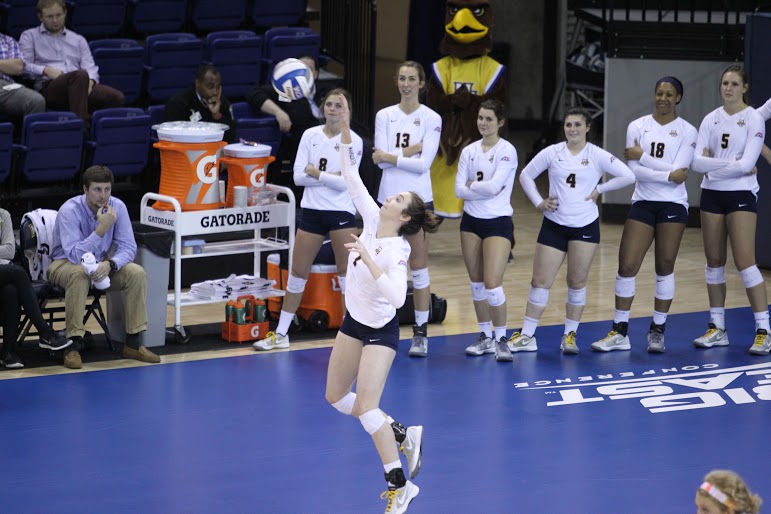 Andrew Goldstein, andrew.goldstein@mu.edu
November 9, 2015
Marquette volleyball started the weekend with arguably its most important match of their year against the conference-leading Creighton Bluejays. Had they won, Marquette would have moved to within one game of first place. Instead, Creighton dealt Marquette a 27-25, 25-19, 25-19 defeat.
Unforced errors were aplenty for the Golden Eagles in their match against Creighton–Marquette had 21 as opposed to 5.5 unforced errors for the Bluejays. Taylor Louis led the Marquette offense, as per usual, with 14 kills, but she also committed 11 attacking errors, many of them off of balls that she wasn't in position to spike.
"We're putting her in some really, really bad situations," Marquette head coach Ryan Theis said. "If you have to hit a ball that's 60 feet in the air and goes through 3,000 revolutions before it hits your hand, that's like trying to hit a curveball to a specific spot on a baseball field. It's not easy to do."
Theis also pointed out that Marquette could have played a much closer match against the Bluejays if not for the unforced errors, and the stat sheet backs that statement up. Marquette out-dug Creighton 67-64 and outblocked them 10.5 to 3.
"I think we played with them on every level except 21 to (5.5), and that gap is huge," he said.
Marquette had a much easier time dealing with the Georgetown Hoyas on Saturday night, though, winning the match 25-22, 25-15, 25-17. Aside from a Hoya rally near the end of the first set to force a 22-22 tie, Marquette pretty much controlled the bout from the outset. The blue and gold hit .314 for the match and limited Georgetown to a .144 hitting percentage.
The Georgetown match was also Senior Night, as outside hitter Erin Lehman and setter Mary Nilles took the court at the Al McGuire Center for the final time. Both players were honored at a pre-game ceremony. Lehman put up an impressive 10 kills on 20 swings and Nilles chipped in 12 assists.
"It was so much fun," Lehman said. "It's nice closure for my last game at the Al McGuire Center to be a sweep."
Marquette is now 19-8 overall and 10-4 inside the conference, and remain in fourth place overall. The Golden Eagles will play the final four matches of their regular season on the road before the BIG EAST tournament at the end of the month.