Volleyball rips through DePaul in straight sets
Redshirt freshman Taylor Louis led the attack with 18 kills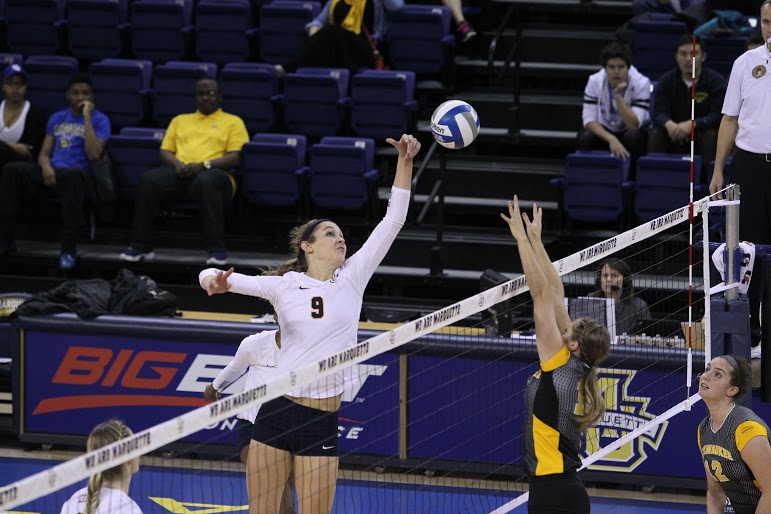 Andrew Goldstein, andrew.goldstein@mu.edu
November 1, 2015
A one-match road trip. A monumental showdown with the conference leader looming in the distance. A spirited young upstart known for playing better than their record.
There were a lot of things that could have derailed the Marquette volleyball team in its match against DePaul Saturday night, but none of them did. Instead, Marquette extended its winning streak to six matches, sweeping the Blue Demons 25-20, 25-17, 25-20.
"I really liked the way we finished games," said Marquette head coach Ryan Theis. "I thought we earned the last couple points in every set."
Redshirt freshman Taylor Louis once again led the way on offense for Marquette, piling up 18 kills on 40 total attempts, for a .375 hitting percentage. Louis ranked fourth in the country in kills per set coming into the weekend, and she may edge her way into third place after her wonderful performance.
"I feel like her range is increasing and she's doing better with all the little things," Theis said of his star outside hitter.
Coach Theis mentioned wanting to be more balanced on offense against DePaul, and he got his wish, as both of Marquette's starting middle blockers struck the ball well. Redshirt freshman Jenna Rosenthal picked up eight kills on only 18 swings, while junior Meghan Niemann punched six of her attacks down to the floor off of only 11 attempts.
Marquette was also able to dominate at the net, out-blocking the Blue Demons nine to three. Niemann and Louis spearheaded the blocking effort with 2.5 rejections apiece.
This win pushes Marquette's conference record to 10-3 and its overall record to 18-7. Next up for Marquette is a return home to the Al McGuire Center to finish out its home slate; the Golden Eagles take on the conference-leading Creighton on Friday night and Georgetown for Senior Night on Saturday.