Men's soccer season all but over
Playoff hopes look bleak after Wednesday's loss.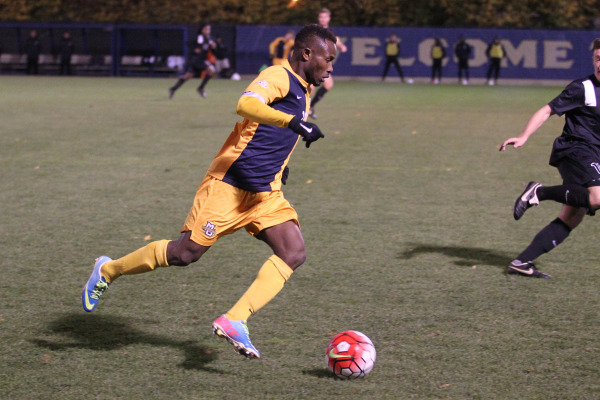 Hang on for a minute...we're trying to find some more stories you might like.
On Wednesday night, the crowd at Valley Fields went from a state of exuberance to complete silence in a matter of 16 seconds.
The Providence men's soccer team led Marquette 3-2 when redshirt senior C. Nortey headed a ball into the back of the net in the 86th minute to tie the game at 3. Just 16 seconds later, Dominik Machado put the Friars in front for the win, handing Marquette its fourth consecutive loss and further hurting its BIG EAST Tournament chances.
"(This loss) could have ended our season," Marquette head coach Louis Bennett said. "Mathematically we are not out of it, but it was certainly a blow."
Marquette's leading goal scorer, redshirt senior Kelmend Islami, made the difference in the first half with two goals, giving the Golden Eagles a 2-1 advantage at the half.
The Friars came out strong at the start of the second half, scoring two goals in just under two minutes to take a 3-2 lead.
"They manhandled us, they were stronger and put pressure on us," Bennett said. "They caught us being a little lackadaisical, and that is what went wrong for us."
With his team down in the second half, Bennett felt the squad losing control instead of playing up to its abilities.
"We pushed the panic button for a while, and the game got really ugly," he said. "It was two teams scrapping instead of trying to play. Our goal was to change the point of attack, which was going from one side of the field to the other. Instead, it went from the left side to the right side. Once we lost the plot, we just let down."
With two games remaining, Marquette will need some help to move up in the standings to secure a spot in the BIG EAST Tournament. They currently sit ninth in the conference and must win both games to have any real chance of making the postseason. Despite this, Bennett is staying positive as he looks ahead to the senior night match on Saturday against Butler.
"We aren't going to just coast right now," Bennett said. "We have two opportunities to win games, and that is what we will do. No one is packing their sandwiches and going on vacation."