Marquette falls to Xavier in overtime
Golden Eagles struggling to keep pace with three games remaining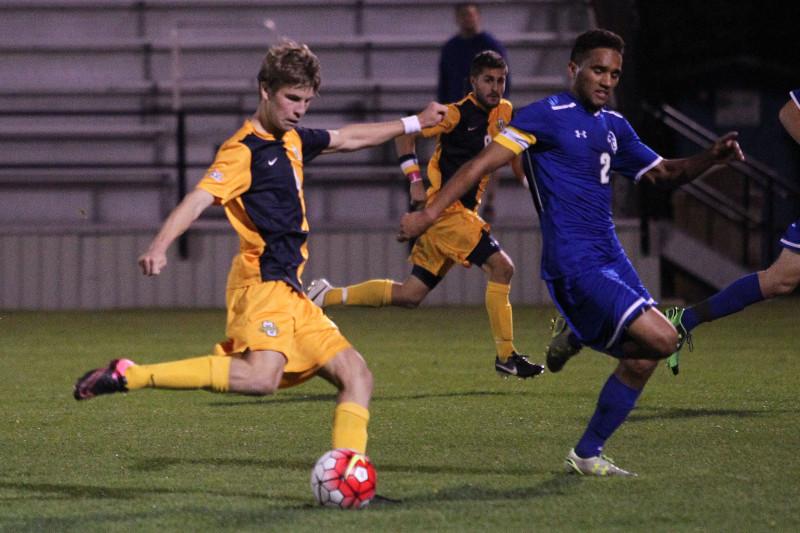 Jack Goods, jack.goods@mu.edu
October 26, 2015
Marquette played Xavier tight Saturday night, but one shot by Matt Vasquenza was enough to sink the Golden Eagles. The Musketeers second-leading scorer found room on the right side of the box in overtime, getting in prime position to roll the ball into the net for the goal.
"We played well in many aspects of the game," said Marquette head coach Louis Bennett. "We had a game plan. We followed the game plan, but we couldn't get that final piece."
The 95th minute goal sealed a 1-0 victory for Xavier, but the Golden Eagles lucked out with results from around the BIG EAST. St. John's and Villanova both lost, while DePaul and Providence played to a 0-0 draw. Marquette currently sits in ninth place in the conference, four points behind sixth place DePaul for the final playoff spot.
The loss pushes Marquette to 1-4-1 in conference play this season. Bennett said he feels that doesn't accurately represent the team's play.
"This year, because of the way it's all spun out, there's definitely a separation between Georgetown and Creighton," Bennett said. "There are a bunch of teams, and I consider us one of them, that are knocking on the door… This season we knew was going to be difficult. We have seven home games and a lot of away games. We knew it was going to be testing on any team, and we have a young team."
The Golden Eagles bested Xavier in multiple statistical categories, including shots on goal and corners. Marquette freshman keeper Wicho Barraza only faced two shots in regulation.
Xavier is a defense-first team. The low scoring game and wet pitch played to their strengths.
"It wasn't for lack of opportunities," Bennett said. "We had the ball in their defensive third. We had a lot of situations where I felt we could have done a little bit better and it would properly result in goals."
This is the third time Marquette has been shutout this season, the fifth overtime game Marquette has played and the second time the Golden Eagles have fallen 1-0 in overtime.
Marquette has three games remaining on the regular season slate. The next two are at home: Providence (2-3-1) on Wednesday and Butler (4-2) on Saturday.
"We've got a favorable setup," Bennett said. "Two of the three teams we need to take points off of to get to the playoffs."